Essential info for first-timers riding to Ladakh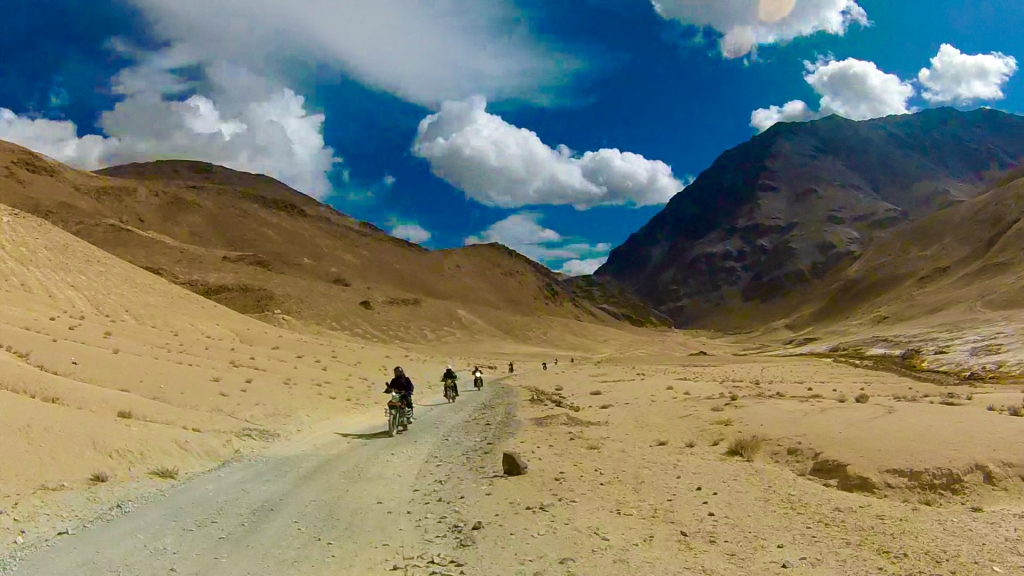 You might have already heard about Ladakh. And you are eager to test yourself on this world-renowned motorcycle destination. But then this is going to be your first time ever in this adventure. True, this trip does not disappoint, that is why it is counted as the greatest adventure experience in the 'Land of high passes'.
Being first-timer you are anxious, there is so much you feel you need to know to make the ride successful, fun and memorable. International riders need to know this essential information if you are going first time on  motorcycle tour to Ladakh. If that is the case, here are some facts and tips that will go a long way in making your tour a lifetime experience.
The only way you can get ready for the trip is by knowing the right choices in terms of equipment as well as mental and physical preparation.
Routes & Itineraries
The best aspect of riding to Ladakh is that there is no ideal itinerary on the routes. It simply depends on how much time you have. If you want to experience the roads and the mountain passes, then you should go for the longer routes. Also, ensure that you ride at a slower pace to avoid AMS symptoms.
For all international riders the base location is New Delhi as the nearest international airport is the IGI Airport in New Delhi.
Ideal base location to start / stop riding motorcycle are Manali , Srinagar & Leh. All these location are connected with domestic flight and via road from New Delhi. Common routes that most riders choose are:
i) Start from Leh , visit around Ladakh and ends at Manali:
This is the route that is well-known to most motorcycle riders.
ii) Start from Manali and Ends at Leh:
If Srinagar is not accessible (Due to unrest in Kashmir riders don't prefer to go via Srinagar) then Manali-Leh highway is the best route option. You need to go slow for proper acclimatization on this route.
iii) Start from Leh – Visit around Ladakh and Ends at Leh:
This allows motorcycle riders to explore better view of the landscape. This is the best option if you don't want to cover Leh Manali Highway.
Riding through all these routes takes a minimum of two days. But we advice to go slow if you are not acclimatized properly.
Also Read : Plan perfect Ladakh itinerary with proper acclimatization.
Weather
The weather in Ladakh is very unpredictable. It usually changes with altitude, but can turn within minutes from sunny day to snowfall.
As you ride to Ladakh, you will experience a wide range of weather conditions. A motorcycle ride that starts out as sunny may be transformed to snowfall within a distance of 50-odd kilometers. The best way to approach your journey is to expect the worst. Even snow fall can happen at high passes during summer days.
Temperature in Ladakh
Altitudes at Ladakh often range from 10000 ft to 19,000 ft. along the roads.  As the altitude varies temperature also varies from place to place. It ranges from subzero to 12 degree Celsius.  The summer climate is more favorable to riders in comparison to winters which is quite harsh. In the months of December to February, the region experiences subzero temperatures in daytime. Despite this, motorcycle riders should be aware of the greater intensity of the sun due to thin air during this period. Road routes to Ladakh get opened from June to September. So June to September is best time to visit Ladakh.
Road Conditions
The roads in Ladakh have experienced a transformation over the recent years. The entire region is easier to motor through. However, there are still rough terrain roads that riders have to maneuver through. You need to remain cautious and focused at all times to ensure that the rough terrain is not damaging the motorcycle. For instance, do not ride fast or hit the brakes on loose sand. A pre-warning is that some parts of the roads can be dangerous because of rock-slides. During the winter, Himalayan region experiences heavy snowfall, therefore, the scheduled opening of some of the roads may be delayed.
Although a majority of the roads are in excellent conditions but be prepared for the occurrence of roadblocks
Mountain Sickness
When riding to Ladakh, it is normal to encounter altitude sickness or acute mountain sickness. This is often caused by the exposure to a lower level of oxygen higher latitudes. Altitude sickness may manifest itself in form of dizziness headaches, rapid heart rate, nausea or vomiting. Therefore, it is highly significant to rest and give your body plenty of time to acclimatize.
Also read : Tips to Acclimatize properly at high altitude
A Warning to Novice Riders about Altitude and the Dangers of the Trip
It is not for the novice or even intermediate riders, only the most expert riders should attempt this ride. You must acclimate your body to the altitude and will have moderate to severe altitude sickness unless you take the time to do so. Many novice riders make this common mistake and pay for it, big time.
Permits
When riding towards Ladakh from Manali, a permit to cross Rohtang is required. However, when using the reverse route i.e. riding to Manali from Ladakh, no permit is required.  To visit in Ladakh you required Inner line permits from Leh. Having a valid permit at hand will allow you to go through many routes that may have restrictions. The requirements of permits for foreign nationals is more stringent as permission is needed to ride to certain regions in Ladakh. You need a registered tour operator to get the permits. Apart from this, you need to keep the multiple photocopies of permits all the time with you as there will be several checkpoints along the way where you may be required to submit a specific form(s).
Documentation / Papers
This goes hand in hand with permits. Ensure that you are carrying all of the documents you need to ride a motorcycle anywhere in Ladakh. A driving license, registration certificate, and a valid insurance will double up as a reliable proof of identity. International riders / foreign nationals needs an International Driving License to drive in India. Additional photocopies of all documents may need to be deposited at all check posts.
Rental facilities for bikers
Being an international biker you have the choice of bringing your bike and other accessories along for this great adventure. However, doing so can be quite expensive and time-consuming. The good news is that there are companies in the environs of Ladakh that offer bike rental services for visitors like you. You can rent a bike and biking accessories as well as all your camping requirements. This means you don't have to carry unnecessary baggage from and back to your home country. If you have purchased the complete tour package then ask your tour operator about the inclusions and exclusions.
Fuel
Fuel is not easily available as you ride to Ladakh. Therefore, ensure to plan ahead to avoid experiencing any breakdowns. Petrol pumps are only available in Leh and Manali. On Leh Manali highway there is no Petrol pump between 365 kms. You may require additional cans / bottles to carry spare fuel with you.
Riding Gear
You should use all riding gears on your tour to Ladakh. The treacherous terrain and unpredictable weather calls for preparation. T-shirt and jeans is not an acceptable attire. Carry all motorcycle riding gears and ensure that you have all essentials information to ride Ladakh.

Warning: A non-numeric value encountered in /home/eticom/public_html/wp-content/themes/publisher/includes/func-review-rating.php on line 212

Warning: A non-numeric value encountered in /home/eticom/public_html/wp-content/themes/publisher/includes/func-review-rating.php on line 213