Ladakh Motorbike Trip – Essential info for first-timers
Essential information for first timers riding to Ladakh in Himalayas. A complete travel guide for riders.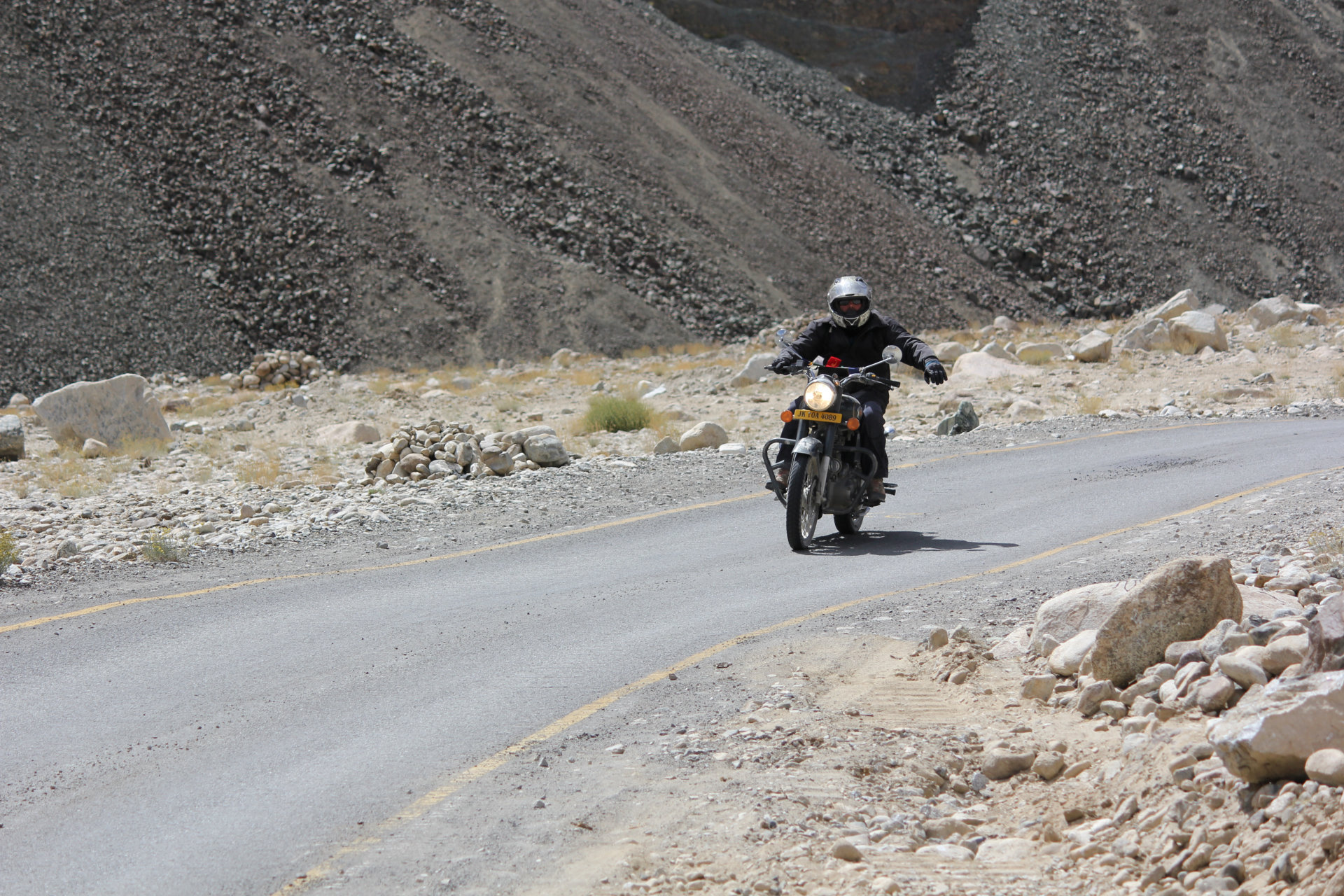 You might have already heard about Ladakh. And you are eager to test yourself on this motorcycle destination. Being first-timer you are anxious, there is so much you feel you need to know to make the ride successful, fun and memorable. International riders need to know this essential information if you are going first time on  motorbike tour to Ladakh. If that is the case, here are some facts and tips that will go a long way in making your tour a lifetime experience.
The only way you can get ready for the trip is by knowing the right choices in terms of equipment as well as mental and physical preparation. Before we start it is necessary to know that 'Ladakh is an adventure destination and not an ordinary holiday destination'.
Below is the complete guide to prepare or plan for a motorcycle tour to the Himalayas.
Routes to reach Ladakh
For all international riders the base location is New Delhi as the nearest international airport is the IGI Airport in New Delhi. Ideal base location to start / end riding motorcycle are Manali , Srinagar & Leh. All these location are connected by domestic flight and road with New Delhi.
This is the first thing that you should know. There are mainly two road routes which connects Ladakh to the rest of the world.
(i) Srinagar – Leh Highway
Reach Srinagar by road or by air. Start motorcycle journey from Srinagar. Srinagar has options to rent motorbikes. Leh is 418 KM away from Srinagar. Attraction on this route are Zojila pass, Fotula pass, Kargil and Lamayuru, Alchi monastery. After reaching Leh, visit to other popular attractions of Ladakh and go back to Srinagar or go to Manali to complete the circuit. Normally people avoiding this route due to unrest issue is Kashmir.
(ii) Manali – Leh Highway
Going through this route is an amazing experience and adventure rider should have to choose this route. Reach Manali by road or by air. Manali has lots of options to rent motorcycles. Leh is 480 KM from Manali. Main attraction of this route is 4 high mountain passes 2 lakes and scenic landscapes.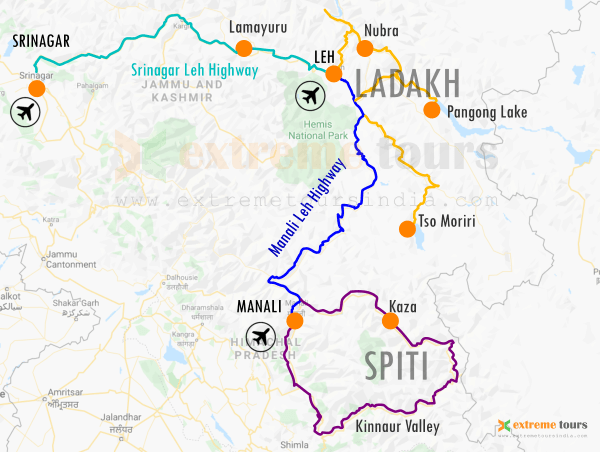 Above map is showing both route and a third one which is via Spiti valley. It is a once in a life time trip, so riders usually include the Spiti valley as well in their itinerary. Refer this Ladakh Spiti road map marked with all the major attractions / places with elevation and distance between places.
Ladakh Itineraries
The best aspect of riding to Ladakh is that there is no ideal itinerary for the routes. It require lots of home work to design an ideal itinerary. Consider factors like which places you want to visit, how much time you have, your capability to ride in a day etc. Also, ensure that you ride at a slower pace to avoid AMS symptoms.
You may craft an itinerary with one way bike ride and fly by another side. It avoids the repeating of route and is a time saver. See some itinerary examples under our motorcycle tours.
Also Read : Plan a perfect itinerary for Ladakh
When to visit ?
Yes, this is very important to know that what is the best time to visit the Ladakh. It is one of the remotest places on the earth and situated at the high altitude area in Himalayas. So it is not open for the whole year for tourists. It only opens in summer for 4 months from June to September every year. So best time to visit Ladakh is in summer season from June to September.
June
In the first half of June roads get open. Weather is also favorable in this month with less chances of rain. But June is a summer holiday month in the country. So it become very crowded in the lower Himalayas. In june route looks more scenic due to snow covered mountains. Actually every month have its own beauty in Himalayas.
July & August
July and August are the monsoon months in the country. Heavy rain can be expected at any time. Due to the end of the holiday season and start of the rainy season there are less family tourists. This is favorite season for adventure seekers. Most of the international tourists come in these two months. Though Riders hardly found any snow deposit in these months but greener vistas of mountains welcome you.
September
Winter is coming and this is the last month of the season. It is more colder and is a real challenge for motorcyclists. Only a few riders dare to ride near the end of the month. But this could be an extreme adventure and it may let the riders to face the live snowfall on the mountain passes.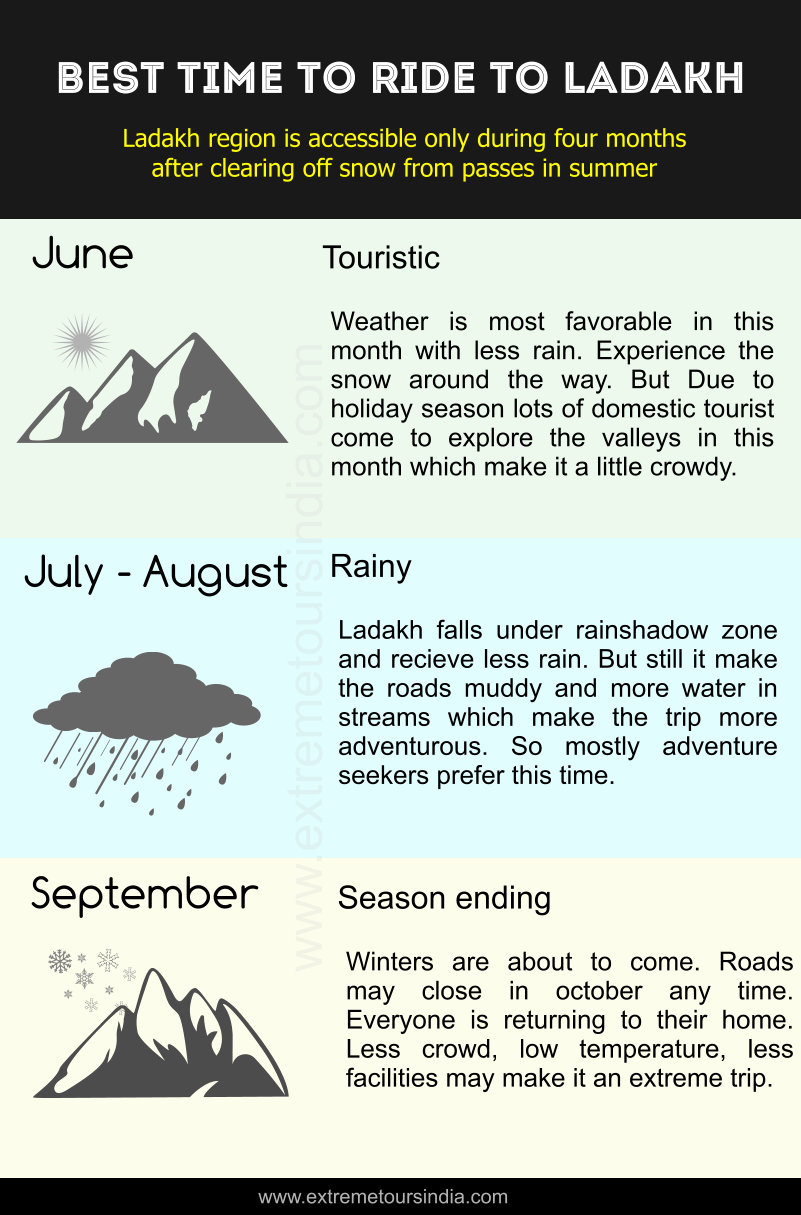 Now which is the best month to visit Ladakh is depends on the choice and availability of individuals.
Climate in Ladakh
Ladakh has extreme climatic conditions. Average altitude of the whole region is approx 11000 feet. It ranges from 10000 ft to 19,000 ft. along the roads. Thin air leads to harsh sun rays in the day time and very cold nights. UV index will be at higher side in summer. Ladakh comes under rain shadow zone so it received very less rain. That's why it is also known as cold desert. At some places you can even witness white sand dunes.
Weather
Simply its unpredictable
As you ride to Ladakh, or any Himalayan region you will experience a wide range of weather conditions. A motorcycle ride that starts out as sunny may be transformed to snowfall within a short distance. The best way to approach your journey is to expect the worst. Snow fall or snow storm can occur at high passes even during summer days. So Himalayan weather is uncertain and change very fast.
Temperature
Subzero to 20 degree Celsius
As the altitude varies temperature also varies from place to place. It ranges from subzero to 20 degree Celsius. The summer climate is more favorable to riders in comparison to winters which is quite harsh. In the months of December to February, the region experiences subzero temperatures in daytime. Despite this, motorcycle riders should be aware of the greater intensity of the sun due to thin air during this period. Road routes to Ladakh get opened from June to September. So June to September is best time to visit Ladakh.
Road Conditions
Road conditions change every year. Always be ready for unexpected road blockage.
The roads in Ladakh have experienced a transformation over the recent years. The entire region is easier to motor through. However, there are still rough terrains that riders have to maneuver through. You need to remain cautious and focused at all times to ensure that the rough terrain is not damaging the motorcycle.
Some parts of the roads can be dangerous because of rock-slides, streams crossing the road. During the winter, Himalayan region experiences heavy snowfall, therefore, the scheduled opening of some of the roads may be delayed. Although a majority of the roads are in excellent conditions but still there are road stretches which will not disappoint adventure seekers.
A Warning to Novice Riders
There are always risks in every adventure
It is not for the novice riders, only expert riders should attempt this ride. Below are some challenges that every rider should have to keep in mind.
You must acclimate your body to the altitude and will have moderate to severe altitude sickness unless you take the time to do so. Many novice riders make this common mistake and pay for it, big time. Read more about Acute mountain sickness.
Always be careful on curvy, steep and narrow roads. You should have experience to ride a motorcycle in hilly area. In steep descend break fail is a common thing if you do not know to use the breaks properly.
Offroad skills are necessary. You should have skills to ride a bike in mud, water and gravel roads.
Mountain Sickness
When riding to Ladakh, it is normal to encounter altitude sickness or acute mountain sickness. This is often caused by the exposure to a lower level of oxygen at higher latitudes. Altitude sickness may manifest itself in form of dizziness headaches, rapid heart rate, nausea or vomiting. Therefore, it is highly significant to rest and give your body plenty of time to acclimatize.
Also read : Tips to Acclimatize properly at high altitude
Inner Line Permit
The requirements of permits for foreign nationals is more stringent as permission is needed to ride to certain regions in Ladakh. You need a registered tour operator to get the permits. Apart from this, you need to keep the multiple photocopies of permits and Passport all the time with you as there will be several checkpoints along the way where you may be required to submit specific form(s).
When riding towards Ladakh from Manali, a permit to cross Rohtang Pass is required. However, when using the reverse route i.e. riding to Manali from Ladakh, no permit is required. To visit in Ladakh you required Inner line permits from Leh. Having a valid permit at hand will allow you to go through many routes that may have restrictions.
Fuel availability
On Leh Manali highway there is no fuel station between 365 kms.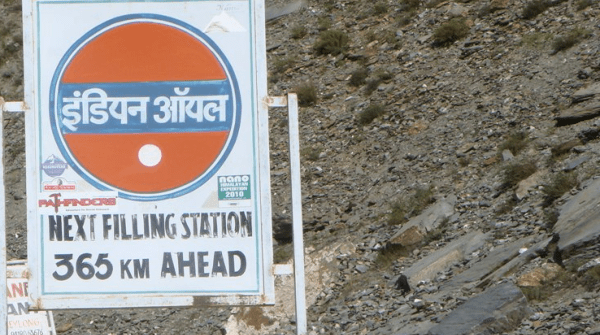 Fuel is not easily available as you ride towards Ladakh. Therefore, ensure to plan ahead to avoid experiencing any breakdowns. You may require additional cans / bottles to carry spare fuel with you. On Srinagar Leh highway is there is fuel station at almost every 100 kilometers. So no need to carry any extra fuel. But on Leh Manali highway there is no Petrol pump between 365 kms.
Fule stations on Manali – Leh highway
Manali -> Tandi -> Karu -> Leh
There is also no petrol pumps / fuel stations in inner line destinations of Ladakh like Pangong, Nubra, Tso Moriri etc.
Tips for Ladakh Trip
These tips are helpful to prepare for a trip to Ladakh or Spiti.
Never underestimate Ladakh's weather and Mountain sickness. Carry proper clothing, gears and well prepare for worst weather. See the packing checklist for Ladakh.
Phone connectivity is only available at selected places. And don't expect good internet connectivity.
Carry medicines and supplies with you. Always expect that you may strand for a day.
Don't disturb any wild animal in the valley. Don't feed them.
Keep hydrated yourself during the ride and take adequate stoppage in between.
Don't spend much time on high mountain passes descend as soon as possible because there is less oxygen on passes and lead to mountain sickness.
There are frequent landslides as well. So be focus while driving.
Carry enough cash with you. ATMs may be out of order.
Wear cloths in layers. You may experience sudden temperature change between terrains.
Tips for motorcycle riders
These are riders specific tips and are must to read before you start your journey.
Sometimes there are ice on roads so bike may slip there. Don't apply sudden break but try to gear down to slow down the speed.
Use the same gear in descending which used for ascending to put the less stress on brakes.
Do not ride on neutral always keep the gear engaged during descend.
While crossing a stream keep the throttle up and control the speed with clutch, It will avoid the water to enter into exhaust pipe.
Riding Gears
You should use all riding gears on your tour to Ladakh. The treacherous terrain and unpredictable weather calls for preparation. T-shirt and jeans is not an acceptable attire. Carry all motorcycle riding gears and ensure that you have all essential information to ride to Ladakh.
Important Papers / Documentation
Ensure that you are carrying all of the documents you need to ride a motorcycle anywhere in Ladakh. A driving license, registration certificate, and a valid insurance will double up as a reliable proof of identity. International riders / foreign nationals need an International Driving License to drive in India. Additional photocopies of all documents may need to be deposited at all check posts.
What to pack
We are providing here a list of necessary items to pack with you for a motorcycle tour to Ladakh. Keep everything you need to protect from cold & dry winds and from strong sun rays.
Documents
Remember to keep all your important documents at a safe place in your baggage.
Print of your itinerary / route map.
Photocopies of your Passport, ID proof and permissions etc.
Photographs (10)
International Driving License.
Emergency contact numbers.
Clothing
Due to varying weather and temperature it is advised to wear the cloths in layers. Keep both light and heavy cloths.
Light t-shirts and trousers
Thermal inner wears
Sweat shirts
Jackets
Waterproof jackets
Shocks (light & woolen)
Cap for protection from sun
Balaclava
Sunglasses / Goggles with UV protection
Toiletries
Sunscreen cream (SPF 50+). Be prepared for protection from high UV index.
Moisturizer
Lip protection
Dry & wet tissues.
Toilet paper
Hand sanitizer
Your daily stuffs like tooth brush, tooth paste, shaving kit etc.
Eatables
High altitude and mild AMS may lead to low appetite. In case of road blockage keep an extra day's supply of food with you.
Dry fruits, cookies, energy bars, Chocolates, Chips etc.
Energy drinks / ORS etc.
Instant or ready to eat foods.
Water
Medicines
Ladakh has very less medical facilities. Hospitals are only available in Manali, Leh and Srinagar. So well prepared with your prescribed medicines. Always consult your doctor. Keep a first aid kit with you making sure to include following items.
Recommended medicines for Cough, cold, stomach upset etc.
Pain killer & pain spray.
Avomine (For motion sickness)
Diamox (Preventive medicine for AMS)
Bandage, medical tape and Crep Bandage
Band aids.
Rider Specific
Full face Helmet
Riding jacket & pant
Riding gloves which can withstand in subzero temperature.
Riding boots or Gum boots.
All guards for rider.
What to shop in Ladakh?
Leh will surprise you when you see the life after riding a long barren land. You should buy something as memory from this place. You can find many sovereign shop here to buy something unique for you. But what should you buy? We are providing a simple list of items which you can buy from the .
Ladakhi & Tibetan handicrafts
Stone jewelry
Woolen cloths
Thangka paintings
Singing bowls
Choktse
Apricot Jams
Ladakhi hats
What to eat?
At Leh city you have lot of options to eat from local dishes to continental food. But if you are at the Leh you should try the local dishes. Here is the list of must try food.
Momos
Thupka
Tigmo
Khambir with butter tea
Ladakhi mutton sausage
Sea buckthorn juice (Leh berries juice)
Chhang (Alcoholic)
Cholak (a mixup of chhang, buttermilk & tsampa)
Places to visit in Ladakh
Leh is the base to visit other places and destinations in Ladakh. This is the major town and capital of Ladakh. Every time to fill up the fuel tank you need to come to Leh. All the permissions can only be obtained from the Leh. Here we are listing places you may include in your itinerary.
1. Nubra Valley (160 km from Leh)
You need to cross the mighty Khardungla Pass to reach to Nubra valley. It is famous for its sand dunes, and double humped camels. Here no need to mention about the beautiful landscapes. This valley includes the villages Diskit, Hunder, Sumur etc. You may visit the famous Diskit monstary here where huge Budha statue is built up.
2. Pangong Lake (220 km from Leh)
Pangong Lake is famous for its salty water at such a high altitude. It is a 150 km long lake. You can reach Pangong Lake either via Changla Pass from Leh or directly from the Nubra valley. Or you may complete the circuit. You need a little work to design an itinerary. There are two places to stay on the bank of Pangong lake
3. Tso Moriri (220 km from Leh)
Tso Moriri is a beautiful high altitude lake. Village korzok is situated near it. You will also witness another salt lake – Kyagar Lake on the route.
4. Lamayuru (110 km from Leh)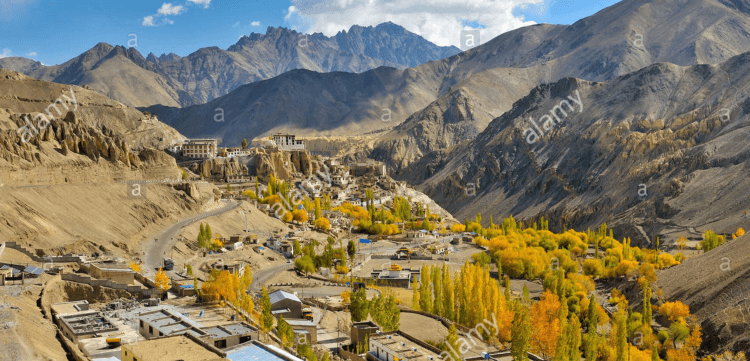 Route to Lamayuru is well built and sometimes known as route66 of India. It is situated on Srinagar Leh highway. If you are coming from Srinagar side this will be on the way and if you have reached Leh from Manali side you may include it in your itinerary as it includes some attraction like Lamayuru Monastery, Likir Monastery, Alchi Monastery, Moon land, Magnetic Hill etc.
5. Zanskar Valley (460 km from Leh)
This is a less traveled destination. It took 2 days to reach Zanskar, so mostly people skip it from the itinerary. Route go through Lamayuru and Kargil. If you have extra time it is also a good place to visit.
Apart from the above famous places there are more to explore in Ladakh.
You may visit to these attractions in Leh
Shanti Stupa
Leh Fort
Magnetic hill
Hemis National Park & Hemis Monastery
Namgayal Monastery
Explore attractions in Ladakh
Are you looking for the best adventure of your lifetime? Then you would do well to try out the Ladakh motorcycle tour. If you're already planning to travel soon, then don't go looking for places to visit in your bucket list. Fill in for a Ladakh motorcycle tour, then go create, not just good stories, but great Chronicles that you will always live to tell. Happiest vacation!
Which bike is best for Ladakh road trip?
Royal Enfield motorcycles are the preferred choice for every rider. It has many models with varying capacity. Mechanics and spares are easily available for these bikes at major locations of the route. It is an essential factor as due the remoteness of the Ladakh region we have limited choices. To know about all the models available for rental visit this page. This is the most available bike at the rental shops. Two most preferred models are
Royal Enfield Bullet 500 CC
Royal Enfield Himalayan 410 CC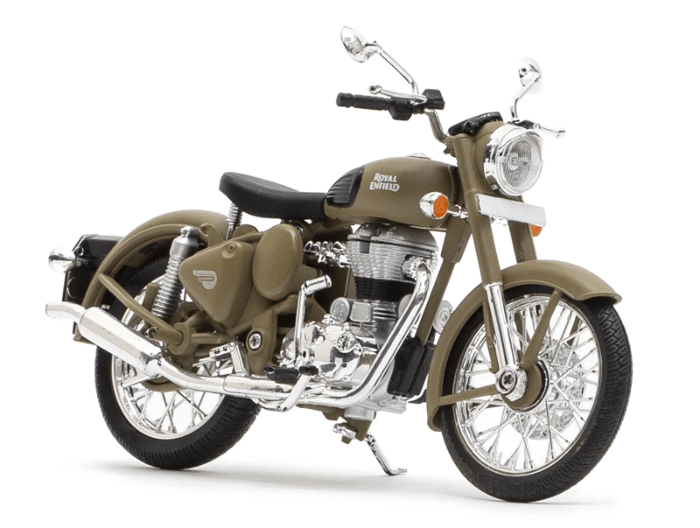 If you don't want to go for the widely preferred Royals you have other great options.
Triumph Tiger is the another good option but availability is the limited. Ask your tour operator if they have the availability.
KTM Duke is a really easy bike to ride due to its lightweight. This quality bike is a good choice for this trip. You can choose between the Duke 390 engine, and the Duke 250.
If you can manage to change its tires, the CBR 250 can be one of the better options because of its superior technology.
Rental facilities for bikers
Motorcycle on rent is available at Manali, Leh & Srinagar locations.
Being an international rider you have the choice of bringing your bike and other accessories along for this great adventure. However, doing so can be quite expensive and time-consuming. The good news is that there are companies in Ladakh, Manali & New Delhi that offer motor bike rental services for visitors. You can rent a motorbike and biking accessories as well as all your camping requirements. This means you don't have to carry unnecessary baggage from and back to your home country. If you have purchased the complete tour package then ask your tour operator about the inclusions and exclusions. You have to either pickup & drop at the same location or hire bike for a one way ride.
FAQs
Q: Where is Ladakh situated?
A: Leh-Ladakh is situated in north India. It is in Himalayan region. It borders with other two Asian countries China and Pakistan.
Q: Is Leh and Ladakh same?
A: They are same but they are not same. Actually Ladakh is a State / province of India administered under central government of India. And Leh is the capital of the Ladakh. Leh is the only major town of the Ladakh so some times people call it Leh-Ladakh.
Q: How far is Ladakh from Leh?
A: Leh is the capital of Ladakh. It is the base for tourists to roam around other places in the Ladakh region. So when you are in Leh you are already in Ladakh.
Q: How to reach Ladakh from New Delhi?
A: You can reach leh-ladakh by road or by Air. There are direct domestic flights from Leh & New Delhi. By road you can go via Srinagar Leh highway or via Manali Leh highway.
Q: Is it difficult to reach Ladakh?
A: Ladakh is connected with two roads and both roads have high mountains passes, which get covered with heavy snow every year in winters. In summer border road organization open them by cutting snow from the roads. Both roads get opened in May or June which depends on weather conditions. To get the latest updates refer to Roads status. High altitude and one of the remotest place on earth make it challenging. So it is a perfect choice for adventure seekers.
Q: Which month is best to visit ?
A: Season open from June to September. So it depends on your choice as every month have its own significant. Please refer best time to visit section in this article.
Q: How much riding experience is required for a bike trip to Ladakh?
A: Himalayan terrain is not an easy terrain. Roads are curvy and narrow. Steep ascending and descending with thin air make it more hard. Rider may have to ride in mud, gravel, sand, stream etc. So actually it needs to be experienced in terms of riding.
Q: How many days required for a trip to explore Ladakh?
A: And ideal itinerary may vary from 1 week to 3 weeks. Normally it takes minimum 4 days to reach Leh by Road and 1:30 hrs by air. It really require to do work to plan a perfect itinerary.
Q: How to plan a bike trip to ladakh?
A: The best thing is to know more about Ladakh before you go. Decide what places do you really want to visit. How many days you have. Then craft a rough itinerary. Then optimize it talking with other experts or with tour operators if they are able to deliver what really you need. Don't trust so much on Google maps for the remote places.
Q: How to prepare for the trip?
A: Well, first of all prepare yourself mentally. If you are ready to take challenges and have an attitude of never give up, then you are ready to go. Rest to prepare for the trip you need to be healthy. Next step is to pack your bags with all the essentials you required.
Q: Is it safe to go Ladakh in August or Monsoon season?
A: Yes, It is perfectly fine to plan a tour in monsoon season. Ladakh comes under rain-shadow and received very less rain even during monsoon. That's why Ladakh is also known as cold desert. But you have to be extra precautionary.
Q: Why are motorbikes preferred over cars when taking a road trip to Leh-Ladakh?
A: Riding on a motorcycle let the riders acclimatize easily as compared to car. It is easy to cross the hurdles in case of a minor road blockage as compared to cars. It is easier to ride on narrow mountain roads, so riders can explore more. Even after many positive points it is more challenging to ride a bike in such extreme conditions. That's why every rider feels pride in riding.
Q: Why this trip? Why Ladakh is Popular?
A: Ladakh is one of the world's most scenic & adventurous destination. It is an once in a lifetime trip. Explore why you should choose Ladakh as the next motorcycle adventure destination.