| | |
| --- | --- |
| Tour Code | ET02 |
| Duration | 10 Nights / 11 Days |
| Total riding distance | 1650 KM (approx) |
| Pick up / Drop | New Delhi |
| Price | $2100 USD Book |
This two weeks motorcycle expedition is neither too slow nor too fast. So it is an ideal Ladakh Motorcycle Tour for every kind of adventure rider. This challenging bike trip offers you to ride through the Manali – Leh highway which is famous for its scenic landscapes and thrilling passes. This route offers stunning landscape from green valley to the snow capped mountains. Exploring beautiful and adventurous Himalayas on a Vintage Royal Enfield motorbike would be one of the unforgettable experience of your life. So get ready for this wondrous journey to astounding Leh-Ladakh.
Availability : June to September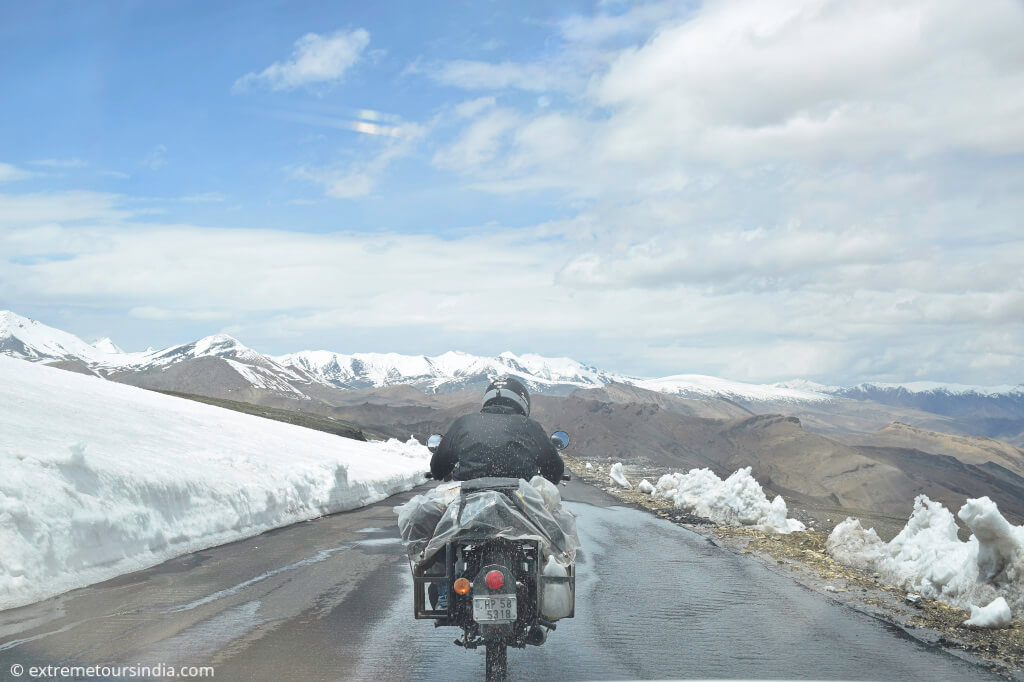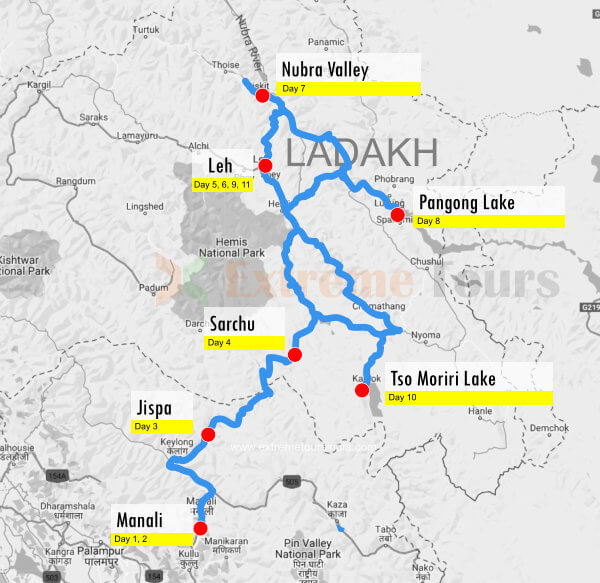 See the Detailed Manali Ladakh route map
Highlights of the Ladakh expedition
Visit to the mighty Khardungla. Ride through the highest motorable road of the world.
Takes you to the 7 difficult Passes and 3 mesmerizing Lakes of Himalayas.
Cruise through the scenic Manali-Leh highway.
Breathtaking Ride along with the Indus River & Magnetic Hill.
Explore the local attractions of Manali and Leh.
Experience the Sand Dunes of cold desert.
Double humped camel safari.
Visit to hot springs and awesome barren landscapes of Chumathang region.
Camping at Pangong and Tso Moriri.
About Ladakh Motorcycle Tour
Leh Ladakh bike trip is most popular tour among all the adventure motorcycle tours in India. This expedition is for those with a true adventurous spirit. Blind corners, steep climbs and drops, and plenty of narrow twists & turns will take you through the spectacular landscapes of Ladakh. June to September is the best season for this adventurous motorcycle trip.
This wonderful Ladakh ride takes you high into the mountains and along the ancient path, known as the Silk Route. It wasn't until 1974 that any outside visitors could even travel Ladakh.
Ride Level is thrilling and varied from paved to dirt to gravel. It isn't a route for the inexperienced bikers, but an experienced rider will also find it enough of a challenge without being over faced. Temperature of Ladakh can range from hot to quite cold. Though it falls under rain shadow zone and counted as cold desert but encounter some rain and snow as well. The weather of Ladakh is as unpredictable as the uncharted terrain. But this will only increase the adrenaline.
Read a travelogue of Ladakh Motorcycle Tour – A once in a lifetime journey.
There is no better way to get to know this wild landscape than on the back of a motorcycle. Royal Enfield is the most popular bike that riders used for a road trip to Ladakh.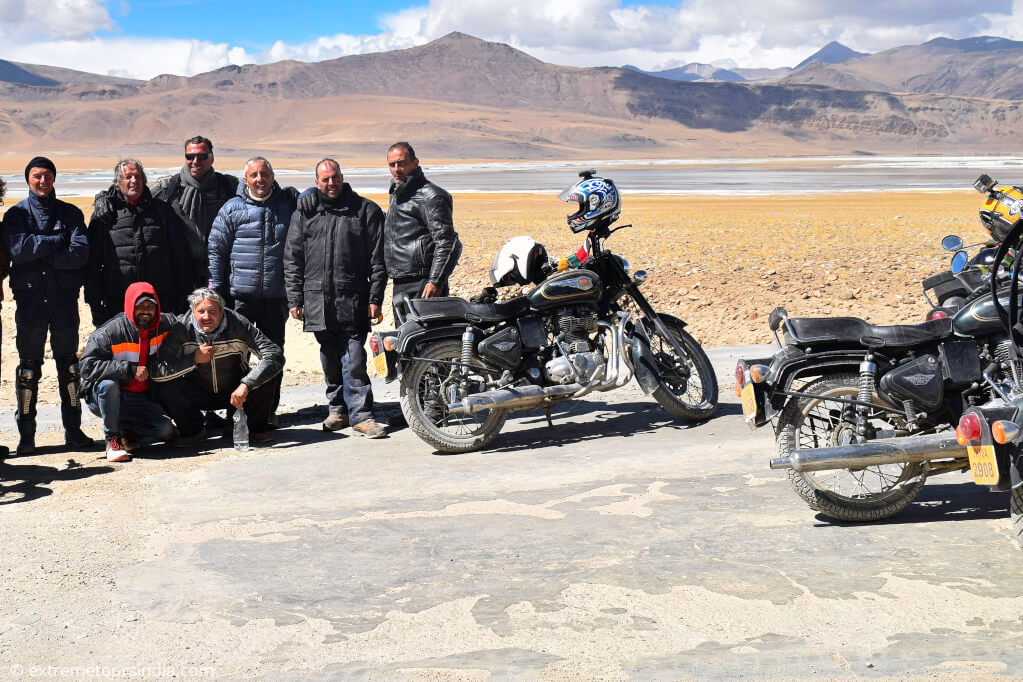 Itinerary – New Delhi to Ladakh Motorcycle Tour
You will join the group at New Delhi. An early morning air-conditioned cab will take you from New Delhi to Manali which is around 12 hours long journey. Manali is a beautiful place in Kullu Valley.
It is popular for its amazing weather, beautiful scenery and hospitable friendly locals. It is among the best hill stations of India. Though it is a calm and serene place but sometimes during holiday season it become very crowded. Many people come here for meditation and to detoxify their body. This is the first stay point for all the bike riders heading towards Ladakh or Spiti Valley.
After reaching Manali, you will be rewarded by perfect Indian Cuisine as dinner in our chosen luxury hotel. For the tired ones, a bed will await. And for the adventurous people, couple of drinks and a brilliant experience of star gazing!!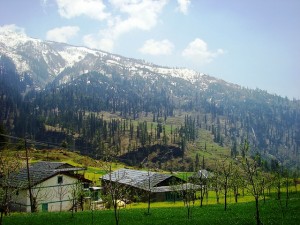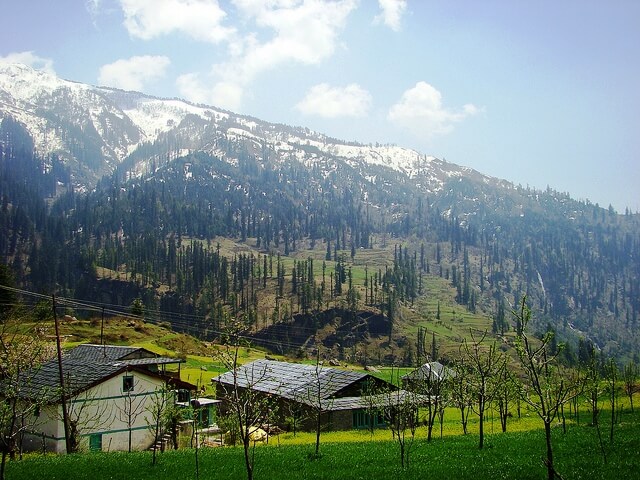 Manali is known as the "the valley of Gods" as referred by the locals. Now you get the chance to explore the valley and see for yourself why it is termed as the valley of Gods. People also call it mini Switzerland.
Today you will be handed over your Royal Enfield bike and a brief guide to ride it on Indian roads. To know it better and understand its feel and controls we will leave it to you to roam around.
You can visit the temples, meet locals and see how they live, tread away from the population and end up at the beautiful hot springs, shop away for local treasures, artifacts and souvenirs. You may give walk on the Mall road in the evening. Taste local fruit juices. The choice to spend the day rests totally on you.
You will have to ride approximately 140 km and cross the Rohtang Pass (The Corpse's pass) famed for its inhospitable snow storms and blizzards. The pass provides mesmerizing views of the Himalayas and also serves as the divider between the humid Kullu valley and the high altitude Lahaul and Spiti valleys. Its altitude is approx 4000 meters. It will be an amazing and thrilling experience to cross your first mountain pass of the journey on Manali Leh highway. The road is almost smooth except for a few water crossings.
Traveler can choose any one option to stay either at Keylong or Jispa. We prefer Jispa as it is a scenic, calm & serene place in the lap of nature on other side Keylong is like a small town.
At 10,000 ft (3,300 m approx) Jispa provides valuable acclimatization time as well as a great starting point for the bike trip to Ladakh. Once we reach Jispa, you will be treated to a high class hotel or camp with all modern facilities despite the secluded and remote nature of Jispa. Take your time to acclimatize here. This is the last habitat place and now on barren land will start. The real adventure is just about to begin from here. So get relaxed and be ready for tomorrow's challenging ride.


The road from Jispa to Sarchu is a colossal collection of bends, curves, hairpins, water crossings and beautiful scenery. We will also get to cross Baralacha La (la means mountain pass), the connecting pass between Himachal Pradesh and Ladakh. It is one of the most dangerous mountain passes in the world. You may feel low oxygen on this pass and it will test how properly you are acclimatized. It is the second mountain pass on Leh Manali highway. Enroute you encounter the two beautiful small lakes – Deepak Taal and Suraj Taal. The route has many water crossings which aid the adventure of the tour. Most difficult is the ZingZing bar crossing. Many tourists are stranded in this place for many hours.
The approximately 16,000 ft (4,890 m) high mountain pass offers peace and solitude as well as adventure for the hungry soul.
This day will be spent travelling from Jispa to Leh and will be the longest distance required to be traveled in one day. The road snakes through the mystical mountains on which many fables have been written. It gives an amazing landscape. Today you have to cross 3 mountain passes Lachung La, Nakee La and Tanglang La. Among the other attractions of the day Pang and More Plains will amaze you. Pang is a place where you can see the art of nature. And next will be More plains, ride a long straight road through a plateau. These are unforgettable places of your tour to Ladakh.
The highest mountain pass in the way would be Tanglang La at 17,480 ft (5,328 m). Some riders could feel discomfort, but generally it should go smoothly. The journey will provide all the magnificent views of the Himalayas along with possible views of the fauna that finds these habitats to their liking.
With a bit of luck, we may run in to wild herds of Kiang (untamed Himalayan donkeys) grazing. It is also possible to run into local tribesman Bhotiya, old nomadic tribesman helping their livestock graze.
Gata Loops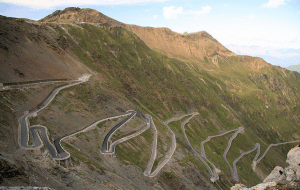 The road between Sarchu and Leh will provide you with the magnificent stretches of hairpin bends called Gata loops and Moore plains. The Gata loops is an absolute test of the bikers skill it will test you on its 21 hairpin bends. Not just the bikers it will also test the motorbike.
The Moore plain is a reward for scaling the mountains. The road is 40 km straight and provides a great relief from the twists and turns.
This is the longest part of the expedition, and is also a test of skills. The views and the proximity though will keep the adrenaline pumping. After a tiring ride, a comfortable hotel room awaits in Leh. A warm shower, amazing food and a long night of rest.
This could be one of the toughest day for you. You are now in the middle of the Manali and Ladakh.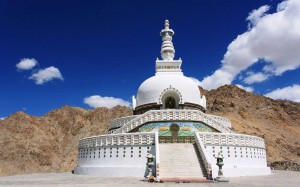 The ancient capital of Ladakh, Leh rich in history and tradition will offer you a day of well-earned rest and relaxation. A community of various religions (Buddhism, Islam, Hinduism) co-existing in perfect harmony. It give a resemblance to Tibet. Many Tibetan refugees also live here who came here after incursion of China into Tibet.
Leh offers various tourist attraction, Leh Palace, Shanti Stupa, Trekking trails, Museum, Jama Masjid, Gurdwara Pathar Sahib just to name a few. The town has seen high tourist influx and thus the locals are very well aware of the language. Today you will rest and roam around in the city or market and visit souvenir shops. Now you are in the Ladakh and more adventure is waiting for you.


After you have rested and rejuvenated yourself, this day will bring another excitement. These remote regions provide an unmatched view of nature. Remote, desolate and mostly arid, the road is surprisingly well built and open access has been given recently.
The ride and the lake itself without exaggeration are one of the most pristine views in the world. It will be a long stretch but will be managed with breaks on regular interval. You will cross third highest mountain pass of the world today known as Chang La pass and is the 6th pass of our expedition. Riding on the road along with the lake give a joyful feeling for the riders. It is a very long lake which is shared by India and China.
Pangong Lake which is the highest salt water lake situated at 14,270 ft. provides a back ground that seems to be taken out of fables and folk lore. The camp site will provide for relaxation and a perfect night with bonfire, music, stars and view of one of the most beautiful lakes in the world.
After breakfast, we say adieu to beautiful Pangong lake and continue ride to Shyok valley. Shyok valley is narrow and dusty with a beautiful road and view. In the middle of journey we shall cross the Shyok river. This route will takes you to the Nubra valley.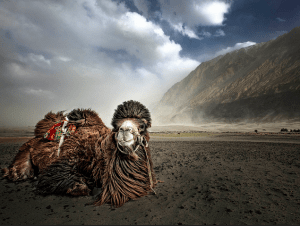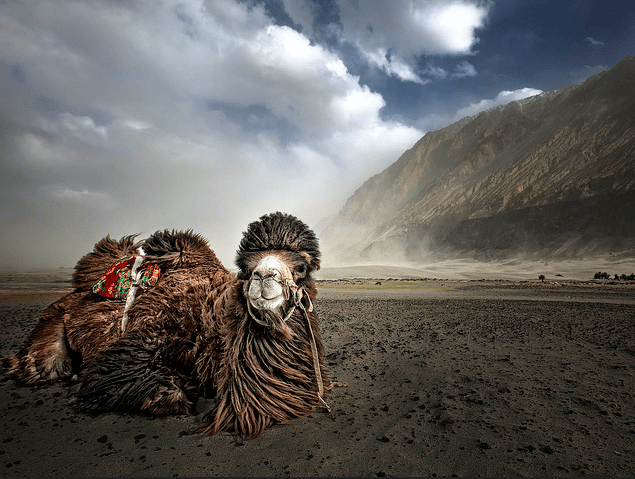 Nubra is a relatively remote, less visited valley requiring special permits to visit as it is near to border area. The valley is similar to the Tibetan plateau. Though it is a cold desert however there is limited agriculture possible, which adds the beautiful color to the surroundings.
The valley provides majestic views of Saser Kangri (2nd highest peak in India) and Siachen Glacier. The beautiful wilderness is also home to Bactrian double hump Camels. At Hunder in Nubra valley enjoy camel ride in white sand dunes.
Rich in fauna on the river beds, the valley offers a perfect recluse for the travelers looking for inner peace and comfort. The camp night will also be the last camp night in the shadow of the great mountains. You can also visit the Diskit monastery, the oldest monastery in Nubra valley.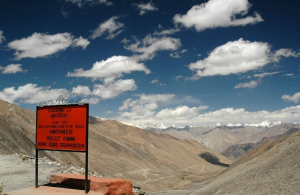 Today you will ride from Nubra valley to Leh via Khardung La at 18,300 ft., worlds highest motor-able road. Road has got a transformation in recent years. It is now widened and construction work is still going on the widening of the road. Otherwise it was a narrow and dangerous road. But still ride through give an awesome and proud feeling.
On khardungla top we'll have a group Photograph as quick as possible as spending more then 15 minutes on a pass is not recommended due to the low oxygen level. So it is advised not to spend much time on pass. It is a dream for the most of the motorcycle riders to conquer this pass on motorcycle. And you have done this.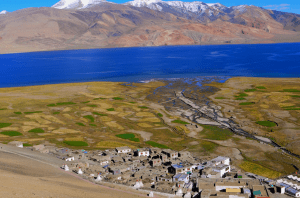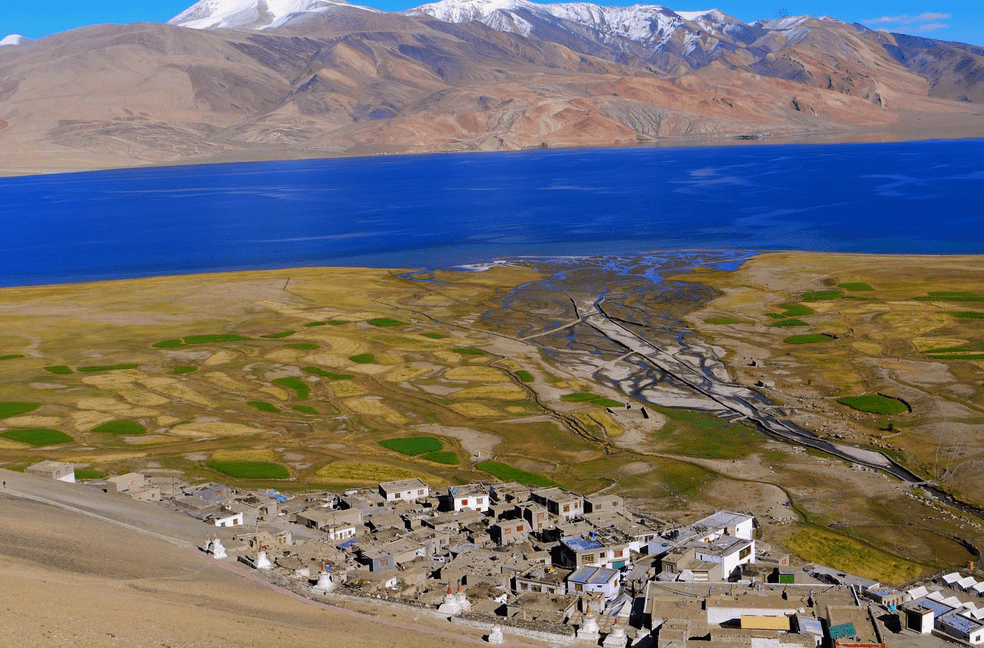 When going gets tough, the tough gets going. A day long journey with magnificent landscapes and a canyon. We'll start our journey early in the morning, at Usphi checkpoint we turn left onto Chumathang road.
Enjoy you ride alongside Indus river. We'll have lunch at Chumangthang and continue till Mahe checkpoint. You can also enjoy the hot springs on the way. At Mahe checkpoint we take right on Mahe bridge. After few kilometres take left from Sumdo village junction.
On the top Kyagar tso lake awaits you with beautiful white shores, ride past the lake till we stop at Korzok village, which is situated on the banks of Tso Moriri. It is a wetland conservation reserve.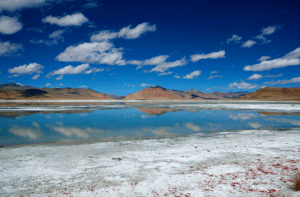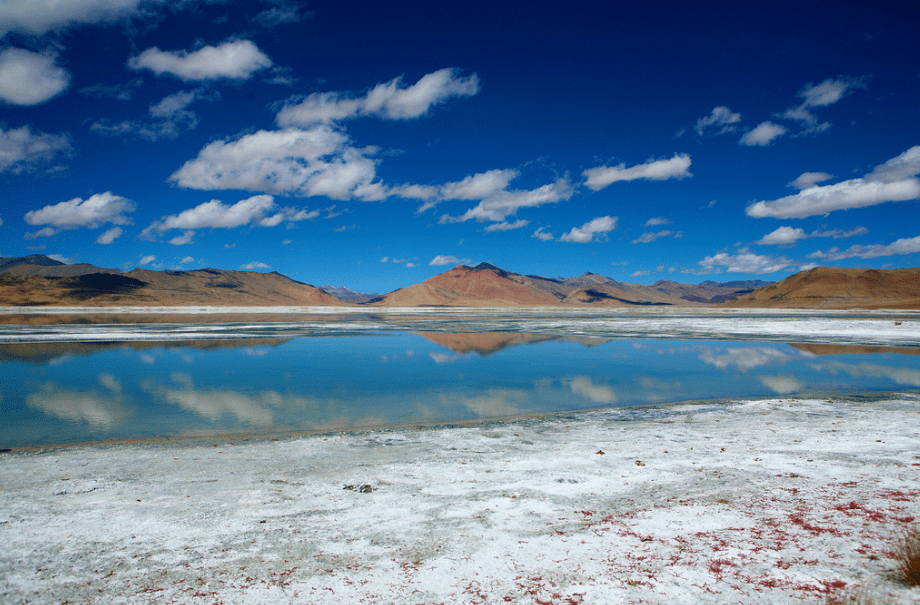 The last day of Ladakh motorbike expedition takes you down to a trip back to Leh via Tso Kar. The beautiful unpaved road and the magnificent lake provide a final touch to an amazing adventure.
The 220 km traveling in one day is thus the fitting finale to an amazing journey, through mountain passes, desolated wilderness, tough weather conditions, an ode to the triumph of human will against all adversaries and odds.
Today we say goodbye to Leh and to each other. Your flights tickets to New Delhi will be given to you and a car will take you to the airport. This will be the end of your amazing motorcycle escapade.
Includes
Royal Enfield 500 / Himalayan 411 hired motorcycle.
Tour Leader.
Fuel for the entire trip.
Twin Sharing Accommodation.
Breakfast, Lunch & Dinner.
First Aid & Oxygen cylinder.
All permits and toll fees.
Domestic Air fare from Leh to Delhi.
Support & luggage vehicle with mechanic.
Excludes
International flights.
Any personal expense.
Motorcycle damage expenses.
Any extra meal other then mentioned.
Single supplement (if applicable).
Tips.
Liquor.
About Ladakh
Leh-Ladakh is mountain paradise which is home to the world's top three mountain passes. Leh is the capital of the Ladakh region but people call it jointly as Leh-Ladakh. It is very popular for its picturesque terrain, charming monasteries, calm valleys, lakes and the rich culture of Tibet. The adventurous souls consider it a heaven because of its high altitude walks in the spectacular mountain areas of the Himalayas.
Himalayas is well known for its highest peaks and mountain passes. So every rider have a dream to ride through those passes. This bike trip will let you fulfill your dream. You will reach up to the lofty elevations of 18,380-feet. The landscape of Ladakh has many secrets to discover. In the summer, the region is rich with bird life, while several types of mountain sheep, goats, kiang roam the land. Even you can spot snow leopard.
A complete Tour Package
This route to the Lakes, Passes and the Valley of Ladakh attracts riders from all parts of the world to enjoy this adventure, an exciting yet demanding motorcycle journey. This journey is extremely enjoyable with the "Royal Enfield" motorcycle and allows you to enjoy nature to the fullest. You should experience this awesome Ladakh motorcycle tour once in your life. In this Fixed Departure tour, you can enjoy motorcycling in the picturesque and hypnotic Himalayas with our expert guide. This is a fully guided motorcycle tour package which includes mostly everything without any hidden cost.
How to Book Motorcycle Tour to Ladakh?
Season for this motorcycle tour opens from June to September. So you have to book atleast 2 months in advance. To book just send us a mail at info@extremetoursindia.com with your details.
You can pre-book a tour if there is more then 6 months remains in the tour departure without paying anything.
You have to pay 25% booking amount when it remains 6 months in the tour departure.
Deposit 100% of tour package amount prior to the 60 days of tour departure.
Refund & cancellation
Up to 60 days or more before the tour departure; Refund 100% of the paid amount.
Between 30 days to 59 days before the tour departure; Refund 50% of the paid amount.
29 days or less before the tour departure; No refunds.
Check group tour departures for solo riders. If you are a group of minimum 4 persons then we can fully customize this itinerary as per your requirement.
---
The mountains shape people in many ways, just like forces of nature have shaped these colossal giants over many millenniums. We hope that when you reach back home, you get a new found understanding about nature, traveling, India and motorcycles. We pride ourselves in providing the best services, I really hope that your experience was worth remembering.
FAQs about Ladakh motorcycle Tour
Ladakh – 'Where The Time Stands Still'

-Incredible India