Warning
: Undefined variable $r in
/home/eticom/public_html/wp-content/plugins/better-related/inc/frontend.php
on line
169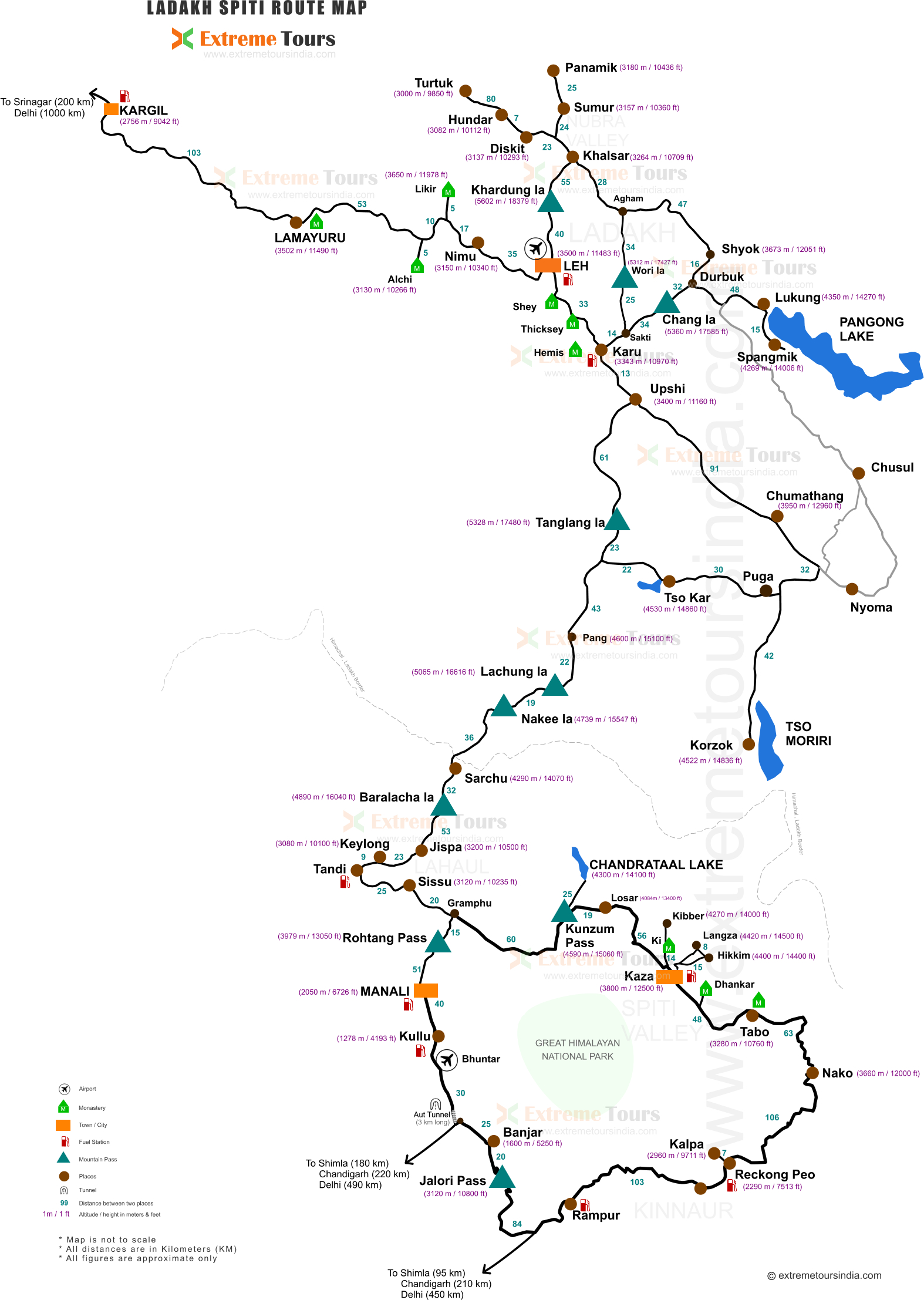 This is a detailed road map of Ladakh and Spiti marked with popular landmarks, destinations, the altitude of the places, and the distance between two places.
Ladakh is a major region, and Leh is the main town of Ladakh. The same is true of Spiti. Spiti is the major region, and Kaza is the main town of Spiti. So for the people who are curious to know the distance between Ladakh and Spiti, it is about 545 km between Kaza and Leh.
Common Routes to reach Ladakh
There are two routes that connect Leh-Ladakh to New Delhi.
Route 1 – By road via Srinagar
This route is preferred for proper acclimatization. It goes via Srinagar, situated in the Kashmir region. Srinagar is known as the heaven on earth. Sometimes there is unrest, but usually there is nothing to fear for the tourists. But still, many people avoid this route.
You can reach Srinagar by road or via flight from New Delhi. It is about 800 kilometers long and will take about 18 hours to drive. So it will take at least 2 days to reach Srinagar. It will take approximately 2 hours by plane. 
Leh, which is the capital city of Ladakh, is approximately 400 km away and will take 10 hours to reach there. Riders have to cross two passes on this route: Zozila Pass and Fotu La Pass.
Route 1 – By road via Manali
Tough riders take this route. Manali is a popular hill station in north India and is the first choice for the honeymoon. Manali is 550 km from New Delhi and will take approximately 12 hours by road. It is also connected by air, but flight services are not reliable. So it is not recommended to go there by air.
The popular scenic route Manali-Leh highway will take riders to the Ladakh region from Manali. On this route, a rider has to cross five high mountain passes (Rohtang Pass, Baralacha La Pass, Lachung La, Nakee La, and Tanglang La). Leh is approximately 480 kilometers from Manali. 
Mostly domestic riders complete the circuit by covering both routes, starting from one route and returning from another. For international riders, they can do one side by flight and another side by road. But there is another option there as well.
Route 3 – Direct to Leh by air from New Delhi
Though Ladakh is one of the remotest areas on earth, it is connected by air to New Delhi. And it is a good option to reach Ladakh directly via flight. Your body will require 24 hours to acclimatize at such a height. Landing directly to Leh will not decrease your adrenaline as there are lots of adventure places to visit on a motorcycle. But surely you will miss one thing, and that is the beauty of the lower, greener Himalayas.
Aside from these basic routes, you may include some adventurous, less traveled routes in your itinerary. 
Advanced Routes to reach Ladakh
These routes are for advanced riders.
Ladakh via Spiti Valley
Adding this route is much easier. Your starting point should be from Manali but you will go through the Spiti Valley. If you have time, you must include this route in your itinerary. This route allows you to ride on a cliffhanger road, visit the world's highest post office, and see a Himalayan mummy.
There are two passes on this route: Kunzum La and Jalori Pass. If you choose this route then it will take a journey of 1000 kms to reach Leh which join the Leh manali highway near Koksar. This is more adventurous than the Manali Leh Highway.
Ladakh via Sach Pass
This is most advanced route and is only recommended for hard core adventurists. This is not for the novice riders. It offers opportunity to ride through the core Himalayas which is still untouched and is traveled by very few peoples. This route again meet to the main Leh Manali highway near Keylong. You have to cross the mighty Sach Pass on this route which is known as one of the deadliest passes of the world.
Routes to Explore Ladakh
After reaching Ladakh you have option to include destinations that you want to visit in Ladakh. Here are some routes or destinations.
Leh Pangong Nubra
This is the most common route that everyone should have to consider including in their itinerary. This route offers 3 major attractions of the Ladakh first is Khardungla Pass, second Pangong tso and last one Nubra valley sand dunes. The complete circuit journey is approx 450 kms. It require 1 night stay at Nubra valley and 1 night at Pangong Tso. So you require at least 3 days extra for this. If you can extend the time there are lots more places to places on this route. In Nubra valley one route go via Diskit hunder to up to the last village at pakistan border. You may visit upto Turtuk Tiaksi etc. Another route go towards Sumur. You may give a visit to Panamik on this route.
Leh to Tso Moriri
Tso Moriri is a Ramsar wetland site and is the highest lake of the world of such a size. Korzok village is situated on its bank and is the only stay option here. Leh to Tso Moriri is approx 220 kms. The route bifurcate from Upshi from the Manali Leh highway towards the Chumathang region. On return you may take a route via Tso Kar aur repeat the same route to get back to Leh. It require 1 night stay at the Tso Moriri.
Leh to Zanskar Valley
Zanskar is famous for its Chadar trek which is a trekking over the frozen Zanskar River. To reach Zanskar via road it takes a long route via Kargil and Suru Valley. But it is worth to explore the less explored area of the Himalayas. Zanskar valley is approx 450 kms from the Leh and will take the same route to return. So you require approx 1 week to explore this region. An alternate route is under construction to reach Zanskar. After completion of that route it will reduce the distance between Leh and Zanskar. But this long route offers you many sites along the way like Lamayuru, Kargil and Suru Valley. Pensi La is the only Pass you need to cross on this route.
Watch out some of our properly designed Ladakh itineraries for motorbike tours. Contact us to get free itinerary suggestions or a custom tour packages. Read detailed travel guide for Ladakh motorcycle trip.