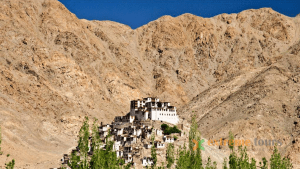 Delve deep into the Himalayas in a way very few ever have the privilege to experience. Here the environment is pristine and influences from the rest of world minimal. Hidden away in the far north of India is one of the most special destinations in the Himalayas. Ladakh, a region that straddles the border of the Himalayas and Kunlun mountains. Leh Ladakh motorcycle tour would be the one of the unforgettable journey in your life.
It is here in this remote mountainous region where Tibetan culture thrives in much the same way that it has for centuries. It is here where you can be transported into one of the world's last untouched areas on a trip that will leave an ever lasting mark on your memory.
About Ladakh Motorcycle Expedition
The Extreme Leh Ladakh motorcycle tour route takes you high into the mountains and along the ancient path, known as the Silk Route, a trade route to and from the Orient. It wasn't until 1974 that any outside visitors could even travel here. Ladakh contains the highest pass in the world that is navigable by motor vehicles, reaching the lofty elevations of 18,380-feet. The motorcycle tour is for those with a true adventurous spirit.
Blind corners, steep climbs and drops, and plenty of narrow twists and turns will take you through this spectacular landscape. It is an adventurous motorcycle tour and this is best motorcycle tour package for India provided by Extreme Tours India.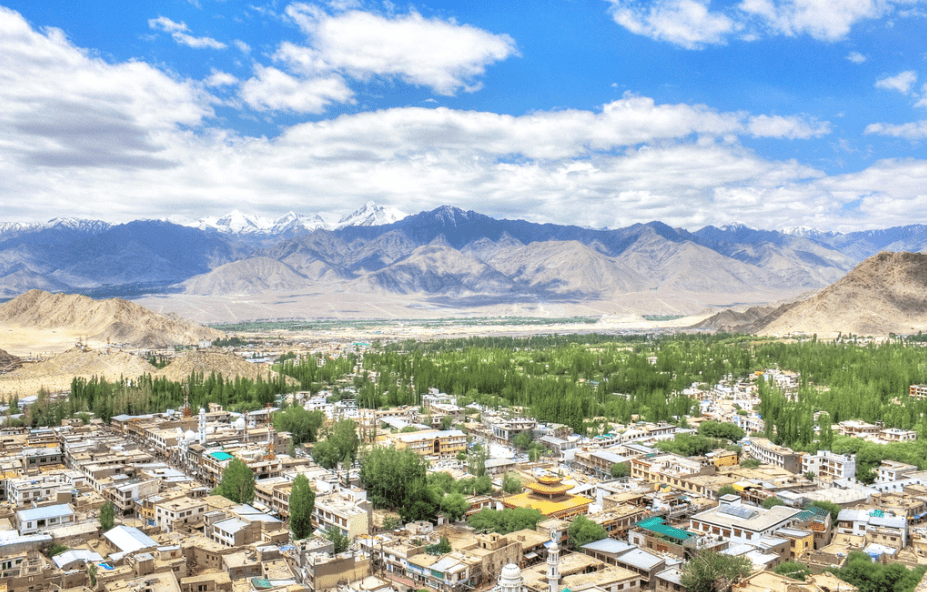 Riding conditions are thrilling and varied from paved to dirt to gravel. It isn't a route for the inexperienced biker, but an experienced rider will find it enough of a challenge without being over faced. Temperatures can range from hot to quite cold, with rain, and even some snow possible. The weather is as unpredictable as the uncharted terrain, only adding to your adventure.
There is no better way to get to know this wild landscape than on the back of a bike. A trip for those in search of one of the last frontiers on Earth. From snow clad peaks, grasslands, lakes, rough plains and barren hills, the landscape has many secrets to discover. In the summer, the region is rich with bird life, while several types of mountain sheep and goats roam the land.
The main town of Ladakh is Leh. Standing high above the town are the ruins of Leh Palace, the former Royal Palace of Ladakh that was built in the 1600s. The majority of people in Leh and the remote northern Indian region are Tibetan Buddhists, who still practice traditional customs. The tour lets you explore this undisturbed and ancient culture by meeting these amazing people, visiting Buddhist monasteries that have stood quietly for centuries. An extreme adventure that is most definitely a trip of a lifetime.
Places that will be covered in this tour
Manali, Jispa, Darcha, Rohtang Pass, Baralacha Pass, Keylong, Jispa, Naki La, Sarchu , Lachlung La, Tanglang La, Moore Plains, Leh, Khardung La Pass, Pangong Lake, Nubra Valley.
Tour Itinerary: New Delhi – Ladakh – New Delhi

Note: If you are a group of minimum 6 people (or more then 6) then we can fully customize the itinerary as per your requirement. Please contact us via Email.
Day 1: New Delhi to Manali (By AC Bus)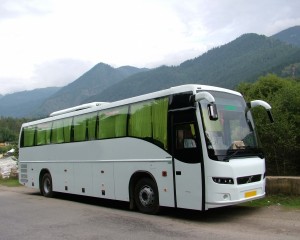 You shall be joining the tour at New Delhi where you'll be met by our representative. An Early morning air-conditioned coach will take you from New Delhi to Manali which is around 12 hour long journey. Manali is a beautiful valley and a popular tourist destination of Himachal Pradesh located in the Himalaya. Known for its amazing weather, beautiful scenery and hospitable friendly locals you will get time to rest and get around the Town. You will be rewarded by perfect Indian Cuisine as dinner in our chosen hotel. For the tired ones, a bed will await, for the adventurous, couple of drinks and a brilliant experience of star gazing!!
Day 2: Manali (Know Your Motorbike)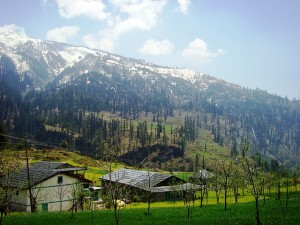 Manali is referred by the locals as "the valley of Gods". Now you get the chance to explore the valley and see for yourself why it is termed as the valley of Gods. Today you will be handed over your Royal Enfield Motorcycle and a brief guide on ride it in India. To know it better and understand its feel and controls we will leave it to you. You can visit the temples, meet locals and see how they live, tread away from the population and end up at the beautiful hot springs, shop away for local treasures, artifacts and souvenirs. The choice to spend the day rests totally on you.
Day 3: Manali to Jispa (140 KM)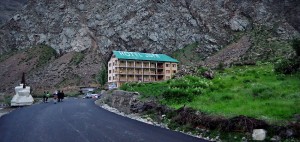 At 10,000 ft (3,300 m approx) Jispa provides valuable acclimatization time as well as a great starting point for the journey ahead. You will have to ride approximately 140 km and cross the Rohtang Pass (The Corpse's pass) famed for its inhospitable snow storms and blizzards. The pass provides with mesmerizing views of Himalayas and also serves as the divide between the humid Kullu valley and the high altitude Lahaul and Spiti valleys. Once we reach Jispa, you will be treated to a high class hotel or camps by the river with all modern facilities despite the secluded and remote nature of Jispa. Take your time acclimatizing; the adventure is just about to begin.
Day 4: Jispa to Sarchu (84 KM)

The road from Jispa to Sarchu is a colossal collection of bends, curves, hairpins and beautiful scenery. We will also get to cross Baralacha La(la means pass), the connecting pass between Himachal Pradesh and Ladakh (Jammu & Kashmir). The approximately 16,000 ft (4,890 m) high pass offers peace and solitude as well as adventure for the hungry soul. We will make camps in Sarchu after completing the 84 km journey.
Day 5: Sarchu to Leh (251 KM)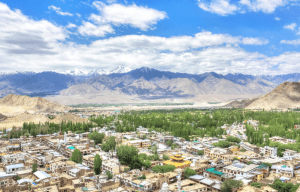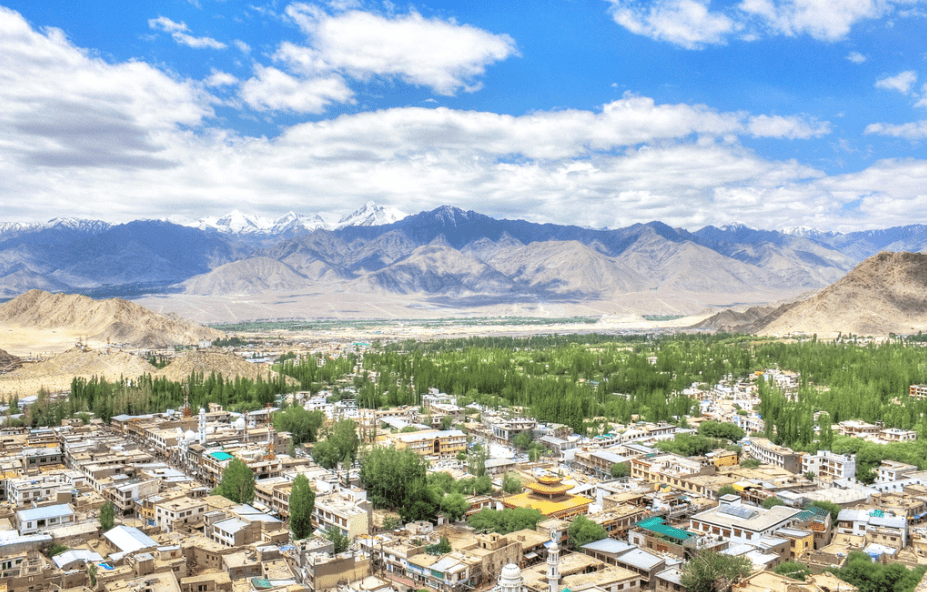 This day will be spent in travelling from Sarchu to Leh and will be the longest amount of distance that requires to be travelled in one day. The road snakes through the mystical mountains on which many a fables have been written. The highest pass in the way would be Tanglang La at 17,480 ft (5,328 m) pass, some people may suffer some discomfort, but generally it should go smoothly. The journey will provide all the magnificent views of Himalaya's along with possible views of the fauna that finds these habitats to their liking. With a bit of luck, we may run in to wild herds of Kiang (untamed Himalayan donkeys) grazing. It is also possible to run into local tribesman Bhotiya, old nomadic tribesman helping their livestock graze.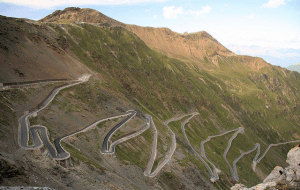 The road between Sarchu and Leh will provide you with the magnificent stretches of hairpin bends called Gata loops and Moore plains. The Gata loops is an absolute test of the bikers skill it will test you on its 21 hairpin bends while the Moore plains are a reward for scaling the plains. The road is 40km straight and provides a great relief from the twists, turn and although it is not fully paved, it is still a comfort for most bikers. This being the longest part of the journey, is also a test of skills. The views and the proximity though will be able to keep the adrenaline pumping.
A comfortable hotel room awaits in Leh, a warm shower, amazing food and a long night of rest.
Day 6: Leh (Rest Day)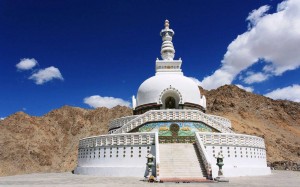 The ancient capital of Ladakh, Leh rich in history and tradition will offer you a day of well-earned rest and relaxation. A community of various religions (Budhism, Islam, Hinduism) co-existing in perfect harmony. Leh offers various tourist attraction, Leh Palace, Shanti Stupa, Trekking trails, Museum, Jama Masjid, Gurdwara Pathar Sahib just to name a few. The town has seen high tourist influx and thus the locals are very well aware of the language.
Day 7: Leh to Pangong Lake (170 KM)
After you have rested and rejuvenated yourself, this day will bring another adventure. These remote regions provide an unmatched view of nature. Remote, desolate and mostly arid, the road is surprisingly well built and open access has been given recently. The ride and the lake itself without exaggeration are one of the most pristine views in the world. It will be a long stretch but will be managed with breaks on regular interval. Pangong lake which is the highest salt water lake situated at 14,270 ft provides a back ground that seems to be taken out of fables and folk lore. The camp site will provide for relaxation and a perfect night with bonfire, music, stars and view of one of the most beautiful lakes in the world.
Day 8: Pangong Lake to Leh (170 KM)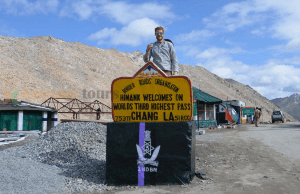 The day will start from the camp site moving back to Leh on the original route. After having Breakfast we will ride back to Leh through Chang La. Take rest or shop around all up to you for the rest of the day.
Day 9: Leh (Rest Day)
Today again a day off from the motorcycle. Enjoy and shop at Leh.
Day 10: Leh to Nubra Valley (115 KM)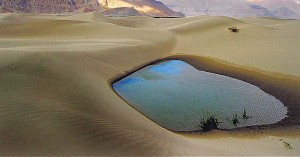 This day we will travel from Leh to Nubra valley. Nubra is a relatively remote, less visited valley requiring special permits to visit due to ownership disputes with Pakistan and China. The valley like the Tibetan plateu is a cold desert however there is agriculture possible adding a beautiful color to the surroundings. The valley provides majestic views of Saser Kangri (2nd highest peak in India) and Siachen Glacier. The beautiful wilderness is also home to Bactrian double hump Camels. Rich in fauna on the river beds, the valley offers a perfect recluse for the travelers looking for inner peace and comfort. The camp night will also be the last camp night in the shadow of the great mountains.You can also visit the Diskit monastery, oldest monastery in Nubra valley.
Day 11: Nubra Valley to Leh (115 KM)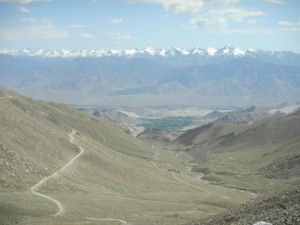 We will go back to Leh via same route through Khardung La 18380 ft. Khardung La considered to be the highest Motor able road in the World although it is not confirmed. We will be riding tomorrow for the one last time.
Day 12: Leh to Alchi to Leh (120KM)
The last motorbike journey takes you down a trip to Alchi. The world heritage Alchi monastery provides proof of human will and endurance over time. The beautiful scenery on the way and the magnificent monastery provide a final touch to an amazing adventure. The 120 km traveling in one day is thus the fitting finale to an amazing journey, through mountain passes, desolated wilderness, tough weather conditions, an ode to the triumph of human will against all adversaries and odds.
Day 13: Leh
The last day in Himalayas, this day provide one final opportunity to grab the camera and take as many pictures as possible. This day will also provide an opportunity to complete the souvenir shopping for the family and friends. The multiple attractions that Leh offers will provide you with the final parting good bye.
Day 14: Leh to New Delhi (By Air)
Today we say goodbye to Leh and to each other. Your flights tickets to New Delhi will be given to you and a car will take you to the airport. This will be the end of our journey.
The mountains shape people in many ways, just like forces of nature have shaped these colossal giants over many millenniums. We hope that when you reach back home, you get a new found understanding about nature, traveling, India. We pride ourselves in providing the best services, I really hope that your experience was worth remembering.
Leh 'Where The Time Stands Still' – Incredible India
Tour Availability
Click on a tour availability to book your tour with us.