Great Himalayan National Park or GHNP is one of the youngest national parks in the world. It was established in 1984. In 2014 it became part of UNESCO World Heritage Site. The location of GHNP is in the Indian state of Himachal Pradesh, sub-division of Kullu.
It is approx 90 km from Manali. This National Park is known for its beautiful forests, canyons and meadows. GHNP ecosystem is a home of many endemic species.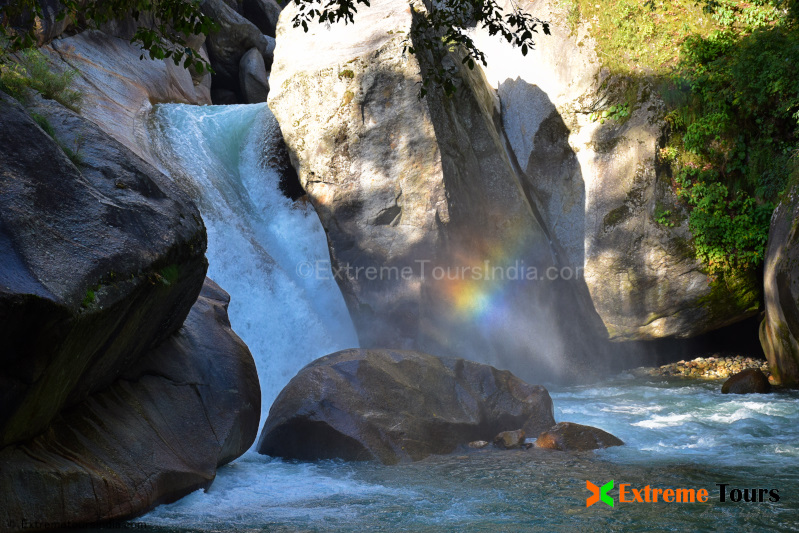 There are many sites that you can visit in this National Park, but you shouldn't skip these four:
Tirthan Valley is known for stunning water spring. This place is considered sacred, and it is called "Tirth". Coniferous and deciduous forests are surrounding this valley. There are several small villages around Tirthan Valley. You can also find beautiful waterfalls nearby.
Sainj Valley has a V shape. The valley got the name after a river of the same name that flows here. In Sainj Valley, you can visit unique tower temples. These were not just religious objects. Thanks to their shape, they could serve for defence from the attackers as well. Although builders were using stone an wood to build these temples, they are in perfectly good shape today. Medows and forest are something that gives this area its unique beauty.
Parvati Valley is recommending to try hiking lovers. Height of this valley is on 5000m above the sea level. Parvati River is making breathtaking waterfalls, not to mention conifers forest and meadows. Parvati Valley is an excellent place for meditation, hiking and bird observing. Don't forget to buy some homemade products from the locals.
Jiwa Nal Valley also got the name from the river that flows here. It is a place for real adventures since the track is tiring. You should go to the Jiwa Nal Valley only if you have some hiking experience.
Hiking is the best way to spend time in GHNP. This way, you can see the most beautiful sites in the Park. But of course, there are other exciting things that you can do here, depending on what time of year are you coming. Rock climbing and river crossing are also very popular.
If you are not a professional hiker then you should consider trek upto Himalayan National Park Gate from the Tirthan valley side. It is a short & scenic trek to spend some quality time in the lap of nature.
If you like to blend in with nature, then, instead of cosy accommodation, you can decide on camping!
As we mentioned, GHNP is home to many bird species, so many people come here for bird watching and pheasant-watching. Anglers also, like to go here, for trout fishing. Himalayan waters are cold, which is suitable for trouts.
For those who like to find out more about local customs and food, we can recommend visiting local fairs.
Ecotourism is the healthiest way to spend your vacation. Especially if you have kids. It is always desirable to spend a few days in nature. If you like to have a holiday like this, then let the GHNP became your next location. Grab your chance to see one of the highest mountains in the world.
Visit the official website of Great Himalayan National Park to know more about it. You can also read more detail at unesco website.