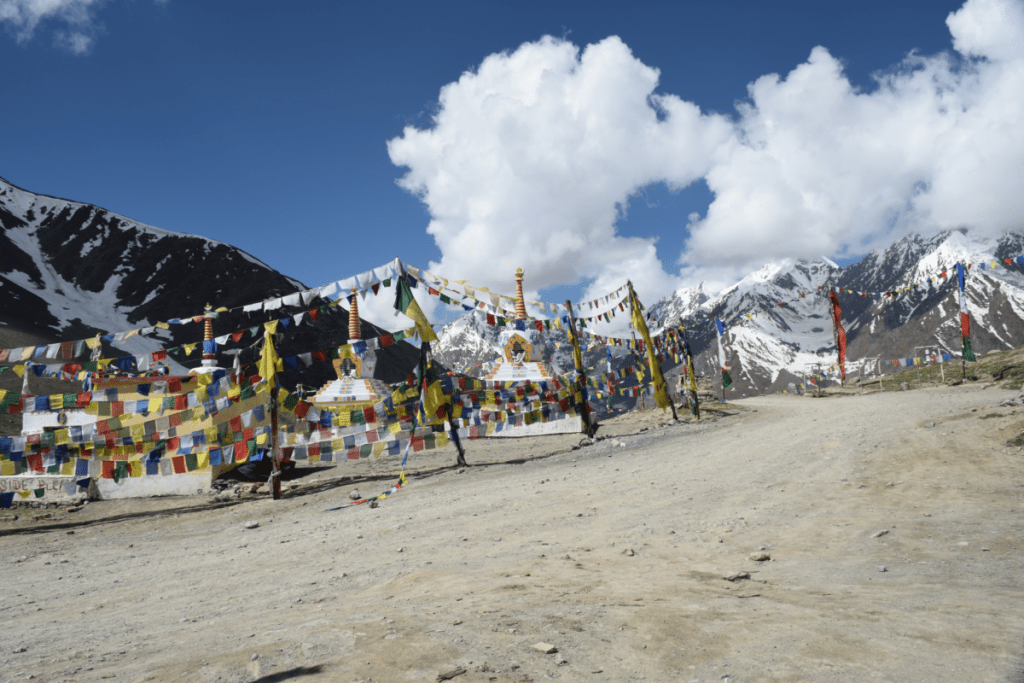 Kunzum Pass is a high mountain pass in Lahaul & Spiti district of Himachal Pradesh in Indian Himalayas. At an altitude of 4551 mtrs (15,018 ft.) Kunzum pass separates the Lahaul valley from Spiti valley. Coming from Manali, Batal lies in Lahaul valley and Losar in Spiti valley are the start and end point of the Kunzum La. It is among the highest motorable pass in the world.
Tourists who visits Kunzum pass from Manali usually hit by Acute Mountain Sickness. It is normal at this altitude, but if it get worse climb down immediately. Due to no weather station on top temperature can not be measure at Kunzum pass, however it is known to be average around 0 degree in summer and around -40 degree in winter.
The pass serves as the gateway to Spiti valley. Kunzum La top lies on the Manali – Kaza road, 128 km from Manali and 75 km from Kaza. Motorists from Keylong and Manali have to take the road to Kaza from Gramphoo junction. From Gramphoo, the road to Kunzum pass has never been metaled, the road is just plane gravel & water and makes it way to Batal alongside the Chandra-Bhaga river. The journey to Kunzum pass is not an easy one, but definitely a journey of a lifetime. On Kunzum pass there is a small Kunzum Goddess temple & Chorten with Tibetan prayer flags. It is a local tradition to pay respect to the Goddess.
The Kunzum pass is a popular place among tourists, trekkers and motorists visiting Lahaul & Spiti. The Kunzum pass top offers the stunning view of Bara Shigri Glacier, the longest glacier in Himachal pradesh & second longest in India after Gangotri Glacier. The Bara Shigri Glacier is 11 km long and has been recently mapped by the GSI (Geological Survey of India). A popular 12 km trek to Chandratal also known as "The Moon Lake" begins from the Kunzum Pass top. Kunzum La – Chandertal trek is the main center of attraction here. It also offers the spectacular views of Chandra-Bhaga mountain range & Spiti valley.
In recent years Himachal Pradesh witnessed the steep rise in motorcycle and cycle tourism in Lahaul & Spiti region. All the credit goes to the few motorcyclist who started this trend almost 10 years ago. Since than Manali-Leh highway and Spiti circuit are the center of attraction for many Motorcycle and Biking community across the globe. Explore popular Motorcycle tours India.
Camping is the only option for a night stay on Kunzum pass, however it is not a good thing to pitch a tent on a 15,000 ft. high pass without experience of tent camping. So best place to stay near the Kunzum pass is Losar, it is a small village just 19 km from the pass lies on Kunzum pass-Kaza road. It has few good guest houses and homestay options for the visitors. The village also has mobile & internet connectivity and a local dispensary for medical emergency.
On the other hand there is Batal, a small temporary settlement in Lahaul side of Kunzum pass lies on Gramphoo-Kunzum road. Locals who erect their tents in summer peak tourist season offers a simple bed, plain food like dal-rice with roti (Indian Bread), Thukpa (noodle soup), Maggi (instant noodles), eggs and mineral water bottles. Remarkably one such place has a BSNL landline connection, but no internet.
Chandertal or the moon lake for which tourist comes to this place is the ideal place for tent camping. Normally people directly comes to Chandertal through Batal-Chandertal road, it's a narrow road with full of gravel suitable only for light vehicles. On the banks of lake one can find accommodation in tent camps or can pitch their tent near them. Tourist visiting Chandertal can also reach here from Kunzum pass by trekking.
June, July, August and September are the best months to visit Kunzum Pass. Access to Kunzum pass only opens for four and a half months in a year. Tourists who visits Spiti valley in winter from NH22 also likes to visit the pass in treacherous weather of December and January, but it is not advisable.
For a guided motorcycle tour to Kunzum pass find out the Spiti valley tours