Located at about 47 km east of the Kaza, Tabo is the only small village located in Spiti valley. This beautiful tourist spot in Himachal Pradesh is also situated across the Spiti River. The biggest and the main reason for visiting this town is because of the several cave shrines and Tabo Monastery a UNESCO World Heritage Site.
Interestingly, it is believed that these cave shrines were used by hermits for meditations. Apart from this, Tabo is also one of the oldest fully functioning Buddhist enclaves in India. But that's not all; this place has to offer more than that. The serenity, exuberance and refinement of this place is absolutely breath-taking. The Tabo Buddhist monastery surrounding the town is believed to be over thousand years old and World Heritage Site by UNESCO.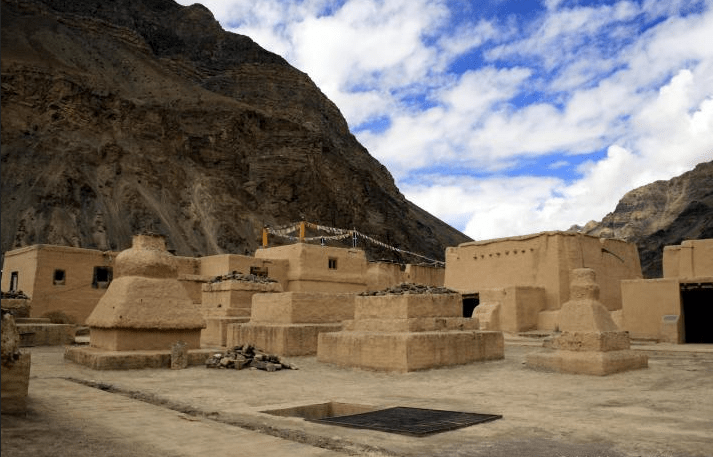 Coming to the place to must visit, there are several temples you need to visit when you are at this picturesque land. First of all, you can visit the temple Tug Lla Khang or the Temple of Enlightened Gods. It is one of the most important temples and occupies the center of this place. It includes a sanctum, an assembly hall as well as a vestibule. Apart from this, you also need to see the four fold figure of Vairocana. Vairocana is believed to be one of the five spiritual sons of self created Buddha.
The most interesting thing in the temple is the paintings. Interestingly, the temple walls are surrounded with paintings of Buddha in different stages of life. These paintings are believed to be done in Kashmiri, Indian and Tibetan styles. Apart from portraits of gods, demons and the decorated mandalas, the temples include wood carvings and full size statues of Bodhisattvas.
Tabo, is a great place to visit if you are looking for some peace of mind and serenity. In fact, taking a break from hectic life and visiting this god's land is definitely a good idea. It is also a fine land to push back worries for a couple of days.