Losar ( also called Lossar) is a small village situated at foothills of Kunzum pass in Spiti Valley. It is the first inhabited village of Spiti valley, if arriving from Manali. At 13,400 ft. Losar village is a spectacle wonder place in the high altitude Himalayan cold desert. Passionate adventure motorcyclist and cyclist from around the world comes every year to Spiti & Ladakh for the Great Himalayan Adventure.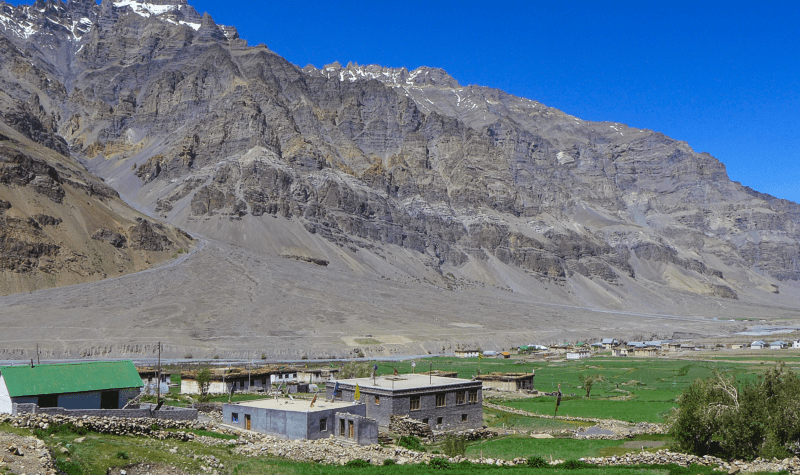 Losar village is 57 & 145 km from the Kaza and Manali respectively. The route from Manali-Kunzum pass- Losar opens in summer only for four and a half months from mid June to October. SH30 Manali-Kaza road (state highway) remain closed for 8 months due to heavy snowfall in winter. Although the road from Tabo to Kaza to Losar opens throughout the year, but keep this thing in mind that average temperature in Losar during winter is -30°C and drops to -40°C on some nights. It is one of the coldest place in the World. Losar village has a police checkpoint, where travelers must have to register their names and vehicle registration number, whether you are arrive in or leaving Spiti valley.
Losar observes heavy tourist activities during peak summer season, due to a sharp rise in Motorcycle and Biking tourism in Spiti and Ladakh valley in recent years. Normally tourists rent a motorcycle or bike from either Manali or Kaza to visit Losar and surrounding places. Losar is remotely unexplored, with many scenic attractions and each has a uniqueness of its own. It is a popular place mainly due to its proximity to Chandratal or the Moon Lake and Kunzum Pass. Trek from Losar to Kunzum Pass to Chandertal is the most popular trek in Losar.
Losar has few places of accommodation, although conditions have certainly got better with time. It has a hotel The Nomad's cottage Losar and a guest house by the name of "Samsong cafe & guest house". Also there is a government PWD guest house for the tourists. Few Homestay options are also available in the village. All of them served simple home cooked meals.