The capital of Ladakh, Leh is a popular destination for adventurists looking to experience a true taste of India. This is the largest town and is the administrative capital of the Ladakh region. You will struggle to find another destination that is as hassle-free yet traveler-friendly as Leh. It has so much to offer everyone that visits, with something for all ages. From the stunning scenery to the variety of places to see in Leh, one thing is for sure: you will never be disappointed when you visit this part of India. But, what should you incorporate into your trip while visiting this area of Ladakh? Where are the best places to eat? What should you expect from your stay here? Read on to discover everything you need to know about this amazing and enchanting location. This is one of the favorite spot for Motorcycle riders as well. Every year From June Thousands of Riders start plying on Manali – Leh Highway to reach there, which is said to be India's Route 66 And Leh is Mecca for Motor bikers. Tourist looking for adventurous motorcycle trips are coming from all over the world. Ladakh which is also known as The land of high passes as to reach leh you have to pass many high mountain passes.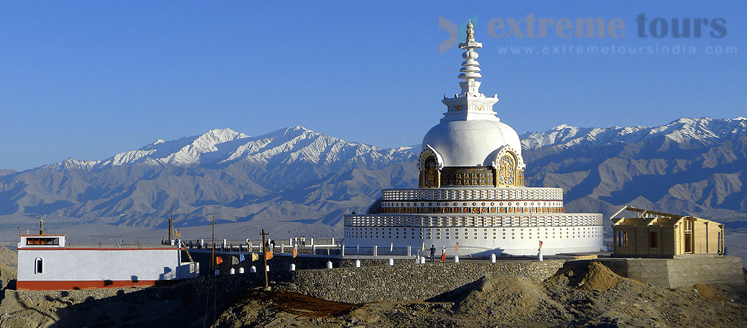 What should you expect when visiting Leh?
Leh is an enchanting, romantic, and somewhat mysterious location. It features a mixture of incredible monasteries and snow-capped mountains. It is a very
interesting place, which draws you in. From the lifestyle and traditions of the culture and the people, this is a special area that is one of a kind. It is one
of a number of different small towns that makes up Ladakh. Leh, itself, is arguably the start of the show, featuring colourful prayer flags and dream
catchers. Anyone would think it has come from a fantasy film!
Read a complete travel guide for Leh, ladakh to plan a trip to Ladakh.
Some of the phrases you can use to help you get by while in Leh
Let's start with a few phrases that are going to help you get by while you are in Leh.
Thank you – Thu-chi che
See you later – Teh yong
Goodbye – kah-leh shu
Good morning – nato deleks
Help – saat tug hay
Hello – ta-shi-de-leh / juley (joo-lay)
The locals will certainly appreciate it if you make an effort to speak to them in their language, even if you do not do a very good job! Try saying hello to
people when you pass them by, and you will certainly see a smile on their face because you have made an effort.
Getting to Leh via air and road
Flying directly to Leh from your home destination may not be an option. However, you do not need to worry about it being a difficult journey, as you can fly
directly from some of the major cities in India, including Mumbai and Delhi. If you are hiring a vehicle while you are in India, another option is to drive to
Leh. If you are driving from Manali, it takes around 482 km, yet the high-altitude road is snowed under for the vast part of the year. Therefore, you can only take this route if you are driving between the months of June and October. The road from Srinagar is open slightly longer, from May until December, although it does depend on snowfall. This journey will take you around 415 km. Most of the people love to visit Leh on a motorcycle. Royal enfield is the popular motorcycle which people like to ride to reach Leh.
Know about the routes to reach Leh in Ladakh Map.
Embracing the history and the culture with the many monasteries in Leh, Ladakh
The monasteries in Ladakh are breathtaking, and you should definitely see a couple of them while you are visiting. During the long history of the area, several
different dynasties ruled Ladakh, and they all bought traditions, religion, and culture to the region, which gives it an incredibly unique feel. This is why
the culture is so exciting and different here. In terms of religion, though, Buddhism is what is followed here by the vast majority of the people that live
in Leh. This is why you will find monasteries all over the area. Some of the monasteries are inhabited, whereas others are in ruins. Either way, you will
get to marvel at the incredible buildings and the magical feeling that these monasteries have. They are world-renowned and ancient, with visitors coming
from far and wide to see them for themselves. Just to make them even more enchanting, a lot of the monasteries are located on the hilltops, and so they
boast the most amazing views. Whether you follow Buddhism or not, there is no denying that these monasteries have a special charm and undeniable feel about them. Some of the most famous monasteries in Ladakh include Hemis Monastery, Matho Monastery, Diskit Monastery, Alchi Monastery, Spituk Gompa, Thiksey Gompa, Likir Gompa, Zongkhul Monastery, Stakna Monastery, Phyang Gompa, Wanla Gompa, and Shey Monastery.
The Hemis Gompa is the biggest in Ladakh. It lies just 45km far from south of Leh. It is a glorious landmark and has particular uncommon peculiarities. A yearly celebration is held here. A kind of business sector is orchestrated at this point when Ladakhis come here to trade their items. Not only is this famous monastery amazing in itself, but also it is known for the annual mask festival. This is a two-day spiritual celebration, which is special and interesting in itself. There are some more monasteries that you can see in your Leh Ladakh tour are specifically the Yak Monastery and Phugtal Gompa. Numerous nuns and ministers in maroon robes are seen here who use their entire lives here looking for peace and moksha.
Yum, yum – The best food to try in Leh, Ladakh
You will certainly have a full tummy during your holiday to this part of India. Let's take a look at the best food to eat in Leh…
Qahwa
This is a traditional and essential drink in Leh. It keeps the body warm and is made using cinnamon and saffron. Make
sure you try it while you are in Leh.
Thukpa
This dish is a Tibetan soup, which is popular in Leh because of the Tibetan influence in the area. It is a comfort
food – a clear soup with lots of vegetables. It is heart-warming, and a real
crowd pleaser.
Momos
If you only try one type of traditional food while you are in Leh, make sure it is momos. They come in different shapes and sizes, but what are they? Essentially, this is a type of dumpling, and it comes with many different fillings, so you are bound to find something suited to your taste.
Other foods that you should certainly try while you are in Leh include langar, kulcha, mokthuk, thenktuk, butter tea, tigmo, and cheese from yak's milk, which
locals know as chhupri. Try these foods so you can get the true Leh experience. You won't regret it!
What are the best places to visit in Leh?
There are lots of amazing places to visit in Leh, so let's take a look at some of them in further detail. One of the great things about Leh is that it is such a relaxing and spiritual place. A lot of people come here to connect with themselves. After all, life is lived at such a fast pace today, and so when you go on vacation it is important to de-stress and relax. And, one of the best places you can do this is at Shanti Stupa, which is a peaceful and magnificent Buddhist monument. Not only is the place itself relaxing, but the views take it to a completely new level. The panoramic views of the landscape are definitely worth taking some photographs of. Watching the sunset or sunrise here is an experience that you will cherish for the rest of your life. If you are an animal lover, the Hemis National Park should definitely be included in your itinerary. This is the biggest national park in the whole of South Asia. It is home to a lot of endangered mammals, including the red fox, Eurasian brown bear, Tibetan wolf, Asiatic ibex, and leopards. For bird watchers and nature lovers, you simply cannot visit Leh without taking a trip here. Bird watching especially is enjoyable because the surroundings are noise free and the environment does not have any pollution. Unlike a lot of wildlife places around the world, the Hemis National Park is a completely serene place where you get to be at one with nature.
The Magnetic Hill is another amazing place to visit in Leh, Ladakh. At this hill, you will park your vehicle at the bottom of the hill and leave your brakes
unlocked. Your car will then start to slowly move up the hill! The science behind this phenomenon is unknown, but it is certainly something unusual that
is worth experiencing.
Namgyal Tsemo Gompa that was implicit 1430. A perspective of Leh from the upper floors of this gompa is grand. It is a sanctuary of the Guardian Deities. The symbol of Maitreyi Buddha could be seen here. You can even see the Buddhist antiques and the stunning design examples of the religious communities. 
Finally, Nubra valley is one of the best places to visit in Ladakh as a whole. If you want an Arabian Nights experience, the sand dunes across here will provide it.
It is one of the most famous tourist attractions in the area, and it is not hard to see why! Don't forget to get your picture snapped on a camel.
Read Leh Ladakh Travelogue from the Diary of a rider.
Acclimatising to the weather in Leh and avoiding acute mountain sickness
Do not take acclimatisation lightly. You need to make sure you gradually adjust to the climate in Leh. A lot of people suffer from AMS, otherwise known as acute mountain sickness. Some of the common symptoms include nausea, breathlessness, light-headedness, and headaches. If you experience any of these symptoms, take some time to yourself and slow down. Descend to the lower part of the mountain if you can. The hospitals in Leh are filled with tourists who underestimate the importance of acclimatisation and try to do too much too soon. Don't be the tourist who spent his or her entire vacation in the hospital because they thought they were clever and disregarded the big change the environment can have on their body. Know more about mountain sickness.
Contact us for a Guided Motorcycle Tour To Leh, Ladakh.