Rohtang Pass arranged at a height 13,051 ft (3,978 m) is a high mountain pass on the eastern Pir Panjal Range of the Himalayas in the range of 51 km from Manali. It join the Kullu Valley with the Lahaul and Spiti Valleys of Himachal Pradesh. The Beas waterway ascends close to the peak of Rohtang from a square of Mica-Schist. To one side, 200 meters higher, is the little pool of "Sarkund" (Dashahr).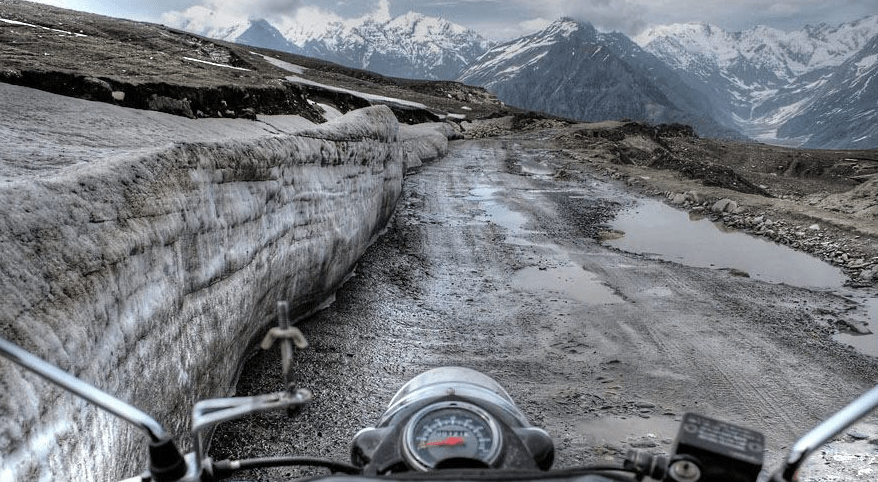 A few language specialists say that the name "rohtang" is a Persian word which means heap of dead bodies. Many people have give up their life while they were crossing the Rohtang Pass.
The pass is open from May to November and shuts down amid the winter season because of substantial snow-fall and tempests in this area.
While in transit to Rohtang pass you get the opportunity to see some grand magnificence worth a thousand clicks and you additionally get the chance to see part of solidified waterfalls in the event that you are going in the month of October or early November. There are alternatives accessible for some paragliding too on the off chance that you are intrigued, however you have to take a slight de-course to achieve the level arriving from where these are orchestrated while in transit to Rohtang Pass.
You get exceptional winter wear and boots on rent to take for your outing to pass, as Rohtang Pass temperature here is in below zero degrees.
We are requesting every tourist to maintain the cleanness of pass, as today the pass is fighting for it's own existence because of carbon emission and litter by tourist and their vehicles. Himachal Tourism restricts the no. of vehicles from 1 june 2015 onwards. As per NGT (national green tribunal) orders, only 1000 cars are allowed to go from Manali to Rohtang on daily basis. From 1000 cars 600 petrol and 400 diesel powered vehicles are allowed. Permissions can be obtained online.