Diskit located in Nubra valley. Diskit is valley's biggest settlement, Diskit is a comparatively not so attractive place by Leh's standards, but it has the area's bus and taxi stand, internet cafes, a bazaar (market), a tourist center and the region's only petrol pump. The road from Leh to Diskit further lead to Siachen Glacier "The Highest Battlefield on Earth".
The town of Diskit is famous all around the world for its ancient monasteries. The first reference of the town is found in Rajtarangini written by Kalhan in 1148 AD. In those times, it was just a small village situated near flood plains of Shyok river. In the early 14th century, famous Buddhist monk Changzem Tserab Zangpo laid the foundations of a monastery. Since then, it became an epic center of the Yellow Hat sect of Mahayana Buddhism. The Monastery today houses around 150 monks. The central hall of the monastery has a large statue of lord Buddha along with several images of guardian deities.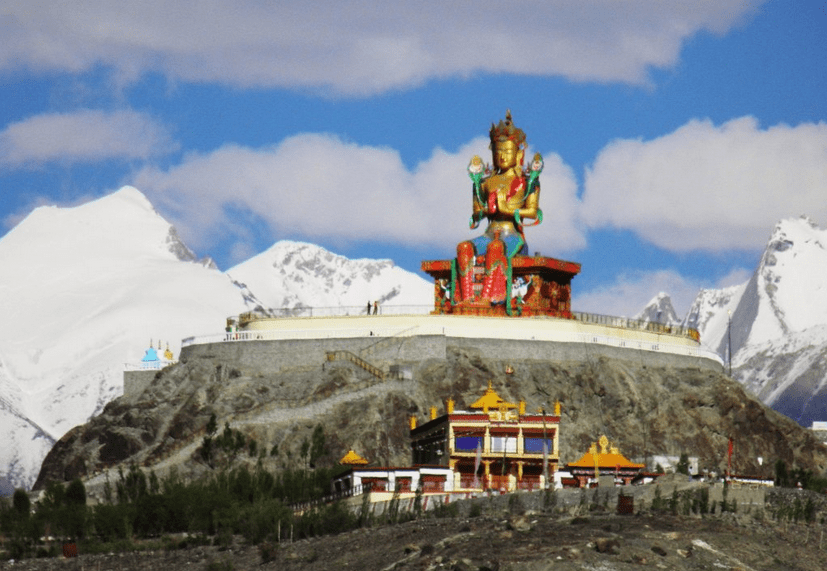 According to a local story, a fiery demon once lived in the place where the monastery stands today and wrecked vengeance on local people. After being killed by gods, the demon kept coming back which can be stopped only by the monastery's monks. Most probably, this legend is the reference to the famous invasion of Mongol leader Dalucha which was stopped in its tracks by the fierce resistance of the people from inside the valley.
Another crowd puller attraction of the city of Diskit is the festival of Dosmoche which is held in the month of January. It is the time when local warriors exhibit their sports and martial arts skills. Prayers and charm dances makes the event a unique spiritual feed. Lachung temple is known as one of the oldest temples in the valley where the holy idol of Tsong Khapa is worshiped and a golden yellow hat crowns the image.
You have to pay a small fee to enter the Diskit monastery and it is a must visit for anyone who comes to the town of Diskit. However, don't forget to try Thukpa which is a thick soup with vegetables and delicious momos stuffed with meat or vegetables. Diskit is indeed one of the best places to visit in the valley of Ladakh.