India is not only home to His Holiness the Dalai Lama but is also home to some of the most important and beautiful Buddhist Monasteries in the world.
One such Monastery is The Dhankar Monastery literally translating to "Cliff Fort" (dhan or dhang meaning cliff and kar meaning Fort) located in the Lahaul-Spiti district of the northern state of Himachal Pradesh. This 300m (1000 Ft) complex is situated at almost 4000m above sea level and overlooks the confluence to the Pin and Spiti rivers in the majestic Spiti Valley. Formerly the seat of power to the "Nonos" the traditional kings of the spiti valley in the 17th century, this monastery was built along the designs of the "Fort Monastery" found on the central Tibetan plateau region and was listed in 2006 as one of the hundred most endangered sites in the world according to the World Monuments Fund.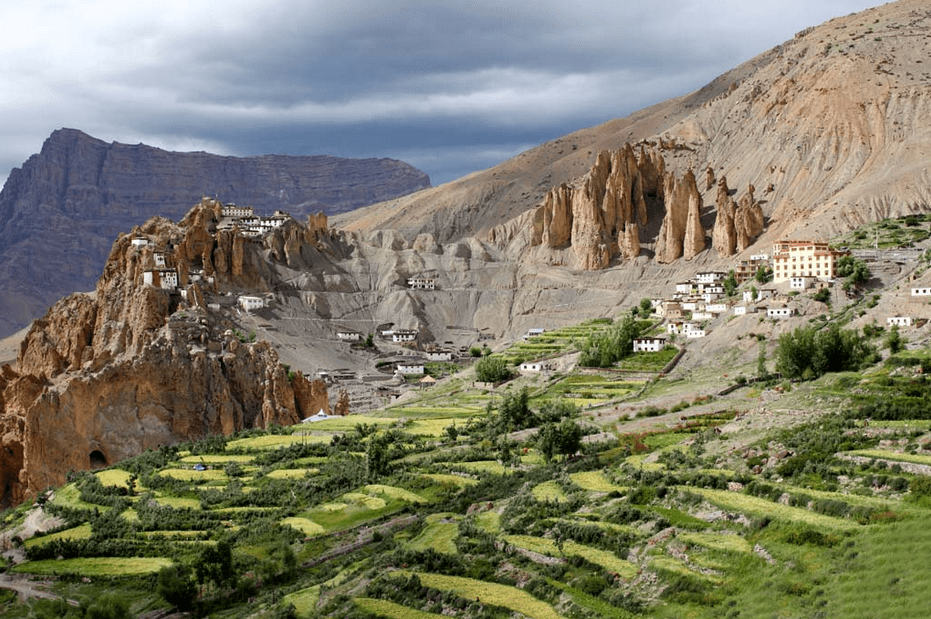 The Dhankar Monastery was referred to as the Lhaöpé Gönpa according to ancient text and was at that time named after its founder Zla-'od a high priest or "lama" who lived around the 12th century and was one of the main teachers of the "Gelug sect" whose head is now His Holiness the Dalai Lama.
The Dhankar Monastery is thus one of the five main Buddhist centres and contains a "Vairochana" Statue which has 4 complete Buddha figures seated back to back. The monastery is also home to a large collection of Buddhist art and scripture including some historic "Thangkas" which are Tibetan Buddhist paintings on silk depicting the Buddha and other deities and were used to teach the young monks about the life and teachings of Buddha.
In 2006 a Museum was built on the site by the Dhankar Initiative, a Non Profit Group dedicated to the conservation of Ancient Dhankar Monastery.
The Dhankar Monastery is accessible by road open all days from 6:30 in the morning to 5:00 in the evening and there are no entry fees.