Tso Kar, known for its scenic beauty and multiple numbers of wildlife it sustains, is one of the three high altitude alpine lakes in the Southern region of Ladakh in the Indian state of Kashmir and Jammu. Tso Kar is found at Rupshu plateau and valley, approximately 50 kilometers from Tso Moriri, India's highest brackish water lake and 250 kilometers Southeast of Leh, its principle town. The lake is at an elevation of 15280ft/4660m, and it spreads over an area of 10 sq. kilometers. Lake Tso Kar is also referred to as "White Lake" because of the white salt of the water deposits found all over the shores of the lake. Of the three (others are Tso Moriri and Pangong Tso), lake Tso Kar is the smallest.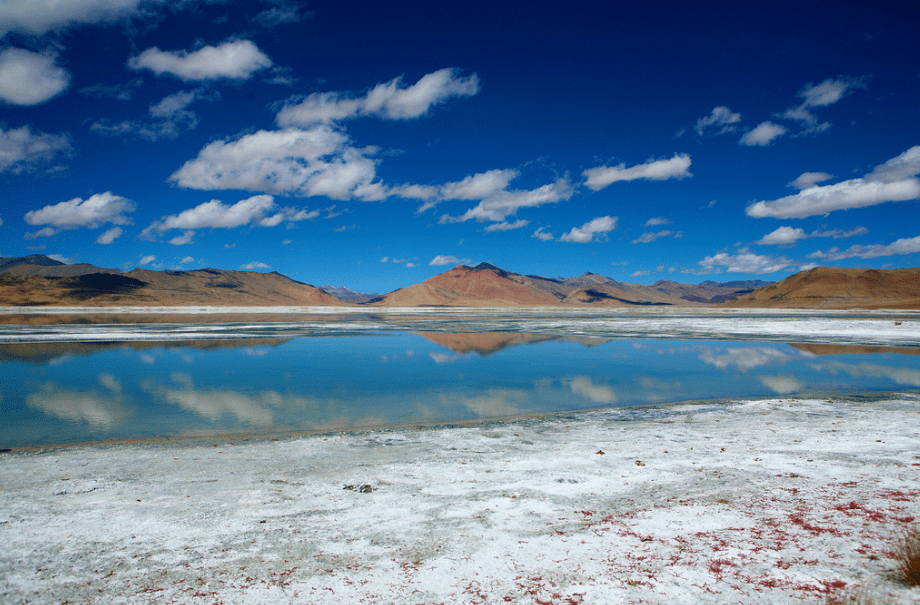 The marshlands surrounding the lake supports a fascinating array of bird life; hence, making it extremely popular with bird watchers. These birds include bar-headed geese, brahmni ducks and great crested grebe. However, the lake's main attraction is the black-necked crane. The black-necked cranes, celebrated for their fidelity, come to Lake Tso Kar to lay eggs. These birds have wingspans of close to 8 ft, and they make an amazing sight when they take off against the snow covered mountains and the backdrop of green plains. Moreover, Tso Kar sustains other wildlife such as Kiangs, which are the largest of the wild asses. The wild mammal lives in large groups and cannot be tamed. It is not a hyperbole to state that the best place to see Kiangs is at Lake Tso Kar. The mountains and hills around the lake are also home to ibex, snow leopards, and foxes.
The nomads, commonly known as Khampas, inhabit the Tso Kar area, and they make a living here by collecting the salt from the banks of Tso Kar Lake and selling it to the regions nearby. Leh town, which is near Tso Kar Lake, has a number of hotels thus; accommodation at the Lake is easily available. There is also the option of night camping although the number of tents is not large. Therefore, it is commendable to make a booking at Leh just to be on the safer side. Despite foods being available in the tents set approximately 3 kilometers from Lake Tso Kar, it is important to carry some packed food. The best times to visit Lake Tso Kar are the months of May, June, July, and August. Tso Kar is no less fascinating regardless of Tso Moriri and Pangong Tso being more popular tourist attractions.