Are you looking to plan a Himalayan motorcycle tour in India? Then here you can find some well-crafted tour itineraries to make your trip to the Himalaya a wonderful memory of your life.
Himalayan terrain is one of the challenging terrain in the world. At such a height both man & machine struggles due to low oxygen level. If you have adrenaline rush then get ready to take up this extreme challenge and plan a trip to the Himalaya.
It is an amazing experience riding along with the Indus river, the largest river of Asia. Ride to the Khardung La Pass which is known as the highest motorable pass of the world at 5360 meters. It is a dream of every biker. It is an adventure of a lifetime.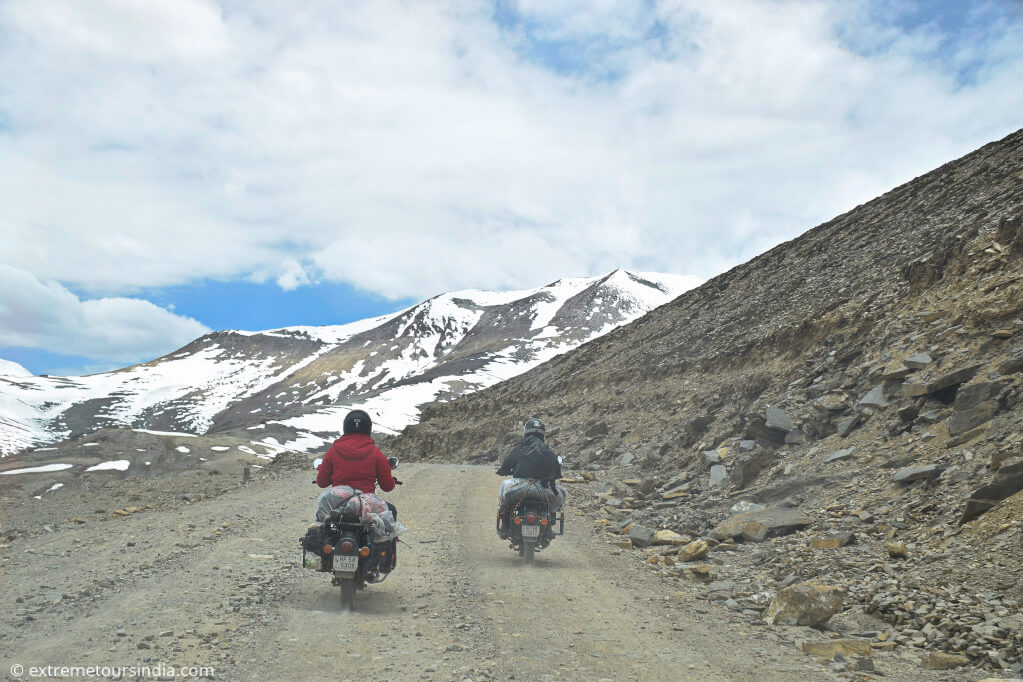 Which destination should you choose for a motorcycle trip to Himalayas?
Himalayan mountain range is very huge, which spread over to many countries like India, Tibet, China, Nepal, Bhutan, Pakistan, Afghanistan etc. Whole Himalaya is amazing and have different experience visiting to the each country.
Each country hold its own history, culture and landscapes. India holds a major part of it. Indian Himalayas provide almost every kind of terrain from Lush green valleys to cold desert area. So if you are planning for for the first time then definitely choose a destination in India. These are the Himalayan states in India; Jammu & Kashmir, Ladakh, Himachal Pradesh (HP), Uttarakhand, Sikkim & Arunchal Pradesh.
For international riders we recommend Ladakh or Spiti as the perfect choice. Here are some points which make it the most recommended Himalayan destination. A tour to Ladakh provide every kind of terrain experience from Lower Himalayas to Trans Himalayas. Easy bike rental, air connectivity and lots of tourist attractions make it a perfect choice as you next destination. It also get the best adventure destination award.
Best Himalayan Motorcycle Tours
Surely all tours with with surreal landscapes and scenic roads will make you speechless. Simply you will never know what you were missing unless you dare to visit. These are guided motorbike tour packages with perfectly crafted itineraries.
These adventure tours include hired Royal Enfield motorcycle with fuel for the entire trip, Support vehicle, all accommodations and meals. These tours required good riding skills as there are many high mountains passes on these routes and road condition vary from good road to off road and even no road.
So let's find out the best Himalayan motorcycle tours & itineraries in India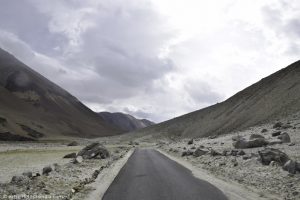 Price: $2600
Duration: 14 Days
Lets find a little more about these road trips string from the New Delhi international airport and ending at the same point.
1.) Leh Pangong Circuit – Explore Ladakh in 1 week
This is the perfect itinerary crafted to explore most of the famous attractions of the Ladakh and that is only in just 6 days. It includes Khardung La Pass, Chang La Pass, World famous Pangong Lake, Sand dunes of Nubra valley, Magnetic hill & Lamayuru. There are many old monasteries which you may visit. It is a short and exciting tour to explore trans-Himalayan region for its rich culture & architecture and natural beauty.
Route : New Delhi -> Leh -> Nubra valley -> Pangong Lake -> Leh -> New Delhi
Duarion: 6 days
Riding start / End : Leh
Riding distance : 600 kms.
Availability: May to October
More detail

2. Spiti Valley Circuit – Explore the Hidden Gem
This is the perfect trip to explore the Himachal Pradesh (HP) state of India. Spiti Valley resembles like Ladakh. Even some people say that Spiti is more scenic then Ladakh. This starts and end at Manali. Manali is the most popular hill station of India. Some people also call it as mini Switzerland.
This tour will cover up the Kullu, Kinnaur, Spiti and Lahual valleys. It includes 3 mountain passes and 1 glacial lake. Major attractions of the tour are Kunzum pass, Jalori Pass, Highest post office of the world, Highest village accessible by vehicles, Mummy of a monk and many more.
Route : New Delhi -> Manali -> Jibhi -> Kalpa -> Tabo -> Kaza -> Manali -> New Delhi
Duration: 9 Days
Riding start / End : Manali
Riding distance: 800 kms.
More detail
3. Manali Ladakh Motorcycle Tour – Cruise through Leh-Manali Highway
This is a perfect trip to Explore both Himachal Pradesh and Ladakh states. Rider cruise through the most famous Manali Leh highway by crossing 4 mountain passes. It includes the Leh Nubra Pangong circuit mentioned as our first itinerary to explore the place in the Ladakh.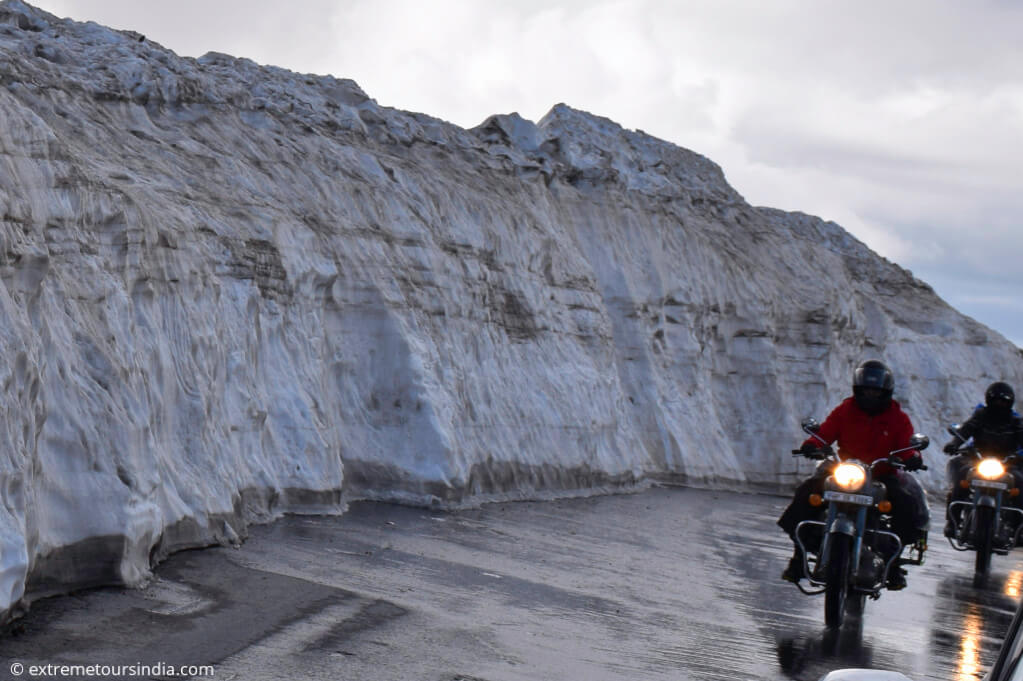 Route : New Delhi -> Manali -> Jispa -> Sarchu -> Leh -> Nubra -> Pangong -> Leh -> New Delhi
Duration: 12 Days
Riding Start: Manali
Riding End: Leh
Distance: 1700 kms.
More detail
4. The Great Himalayan Motorcycle Tour – 7 Passes and 3 Lakes
This is a specially designed tour to cover up all of the above 3 tours. The best thing is that duration is just approx 3 days longer but you will explore lots more places. So this is our best recommended Himalayan Motorcycle Tour.
It is covering both Ladakh & Spiti Valley within a single package. Trip starts from Manali and ends at Leh. The route goes through the deep lush green valleys, cliff hanger road, smooth roads, off roads, no roads river crossings, camping at many places, enjoy the bonfire apart from the scenic and adventurous ride which is main essence of our all Himalayan Tours.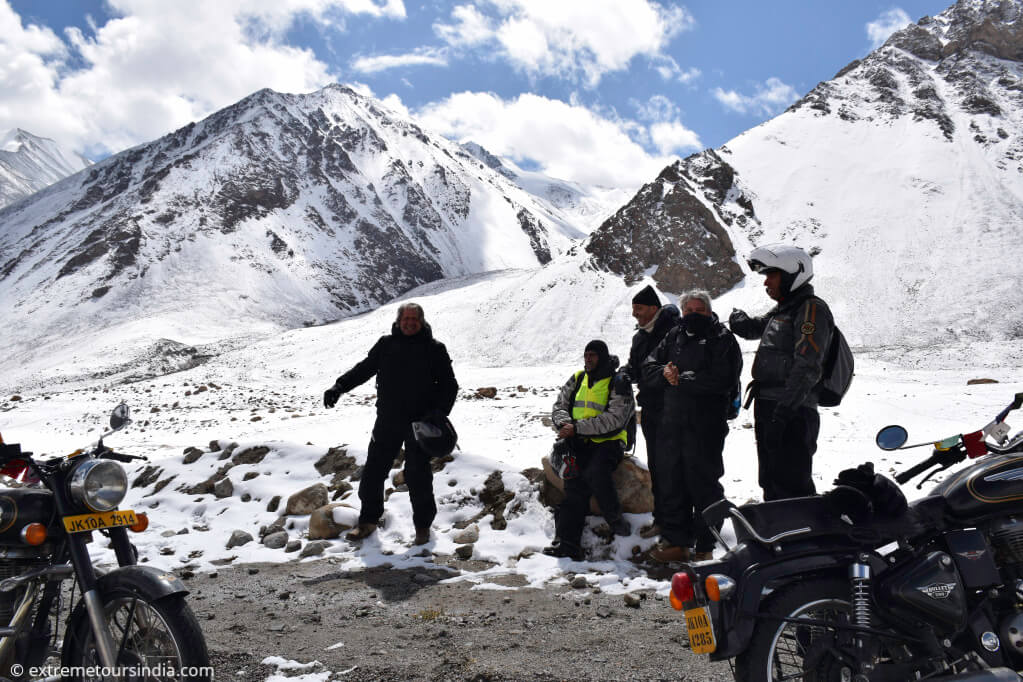 Route: New Delhi -> Manali -> Banjar -> Kalpa -> Tabo -> Kaza -> Jispa -> Sarchu -> Leh -> Nubra Valley -> Pangong Tso -> Leh -> New Delhi
Duration: 16 Days
Riding Start: Manali
Riding End: Leh
Distance: 1800 kms.
More detail
More creatives itineraries with other less known destinations and routes in Himalayas can be possible. Contact us for a customized tour package. Read this guide : how to plan a tour in Himalayas. If you want to do your own research you refer to our ladakh spiti map to explore the areas.
FAQs
Q: Which is the most recommended Himalayan destination for Riders?
A: We recommend Ladakh as the best riding destination in Himalayas.
Q: How much experience or skills are required for riding in the Himalaya?
A: Previous experience of riding in the mountains is required. Off road riding experience is a bonus.
Q: What else can I do while in India?
A: Apart from Himalayas there are many other good places to visit in India. A visit to Taj Mahal is the best thing to do.
Q: Is there any addon tour / activity available?
A: Yes we have many add-on trips or activities to complement your chosen tour if you have plan to extend your stay. You may include a trekking tour, Safari tour or a tour to Taj Mahal etc.
Q: Why Himalayas is a so special destination?
A: It is rich in heritage, culture and scenic beauty. It is the tallest and biggest mountain range in the world. One of the remotest places on the earth lies here.